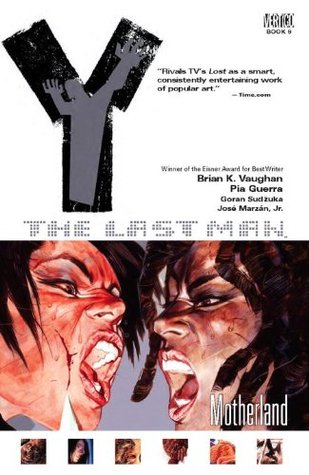 Title: Y: The Last Man, Volume 9: Motherland
Written by: Brian K. Vaughan
Pencillers: Pia Guerra and Goran Sudzuka
Inkers: Jose Marzan, Jr. and Goran Sudzuka
Published by: DC Comics
Released: 2006
Source: Library
Summary: Secrets are about to come out. What caused the plague in the first place? Will Yorick ever find Beth? Will Dr. Allison Mann ever smile?
Being the last man alive is dangerous. Four years and Yorick is still on this never ending journey. The end is near!
My Thoughts: I thought this Volume was okay. It focused a lot on Dr. Allison Mann, who has never been my favorite character. I enjoy the dynamic of Yorick and Agent 355 more. Anyway, we find out some interesting revelations about Dr. Mann and her family. I will say, I'm still confused as to what caused the plague and why Yorick survived. It could be because I've been reading this series slowly, and I tend to forget details.
It's also hard for me to believe that 4 years have passed in this series. That's so long, and sometimes it can feel kind of slow.
I wouldn't say this was my favorite Volume, but I didn't hate it. I'm excited that I'm almost at the end. I hope I'm satisfied by the ending. I'm excited to be this close to finishing. I would definitely recommend this series.
BOOKCITEMENT LEVEL 3.7/5
The End Is Near... And I'm Excited!