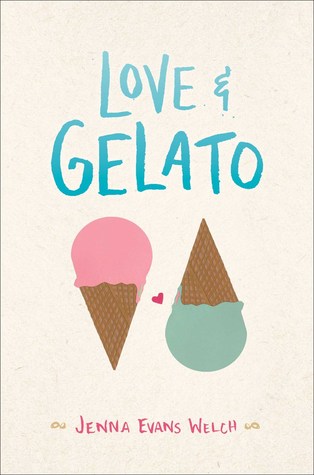 Title: Love & Gelato
Author: Jenna Evans Welch
Published by: Simon Pulse
Released: May 2016
Source: Library
Summary: Her mother's dying wish was for Lina to go live in Italy. Lina is staying with a father she's never met named Howard, and she isn't sure how she feels about it. Her mother also mailed a journal to Italy, chronicling her time there, and the magic she experienced.
The journal holds many mysteries for Lina, along with a lot of sadness. Lina decides to explore Italy with her mother's journal as a reference, with the help of a cute guy named Ren. Lina discovers more about her mother's life than she ever could've imagined, and maybe, just maybe, Italy might hold some magic for Lina as well.
The journey to truth and acceptance contains friendship, copious amounts of gelato, exploring Italy, and love.
My Thoughts: What a cute, fun read! This is the perfect book to escape into. It is a super fast read. I would find myself sitting down to read a couple pages, and reading 40 to 50 pages in no time flat. I got lost in the story, which is the mark of a good story!
I loved the descriptions of Italy, it made me want to visit there. It made it seem so beautiful and magical. I'm also now craving gelato, because it sounds delicious.
I really enjoyed the relationship between Ren and Lina. Their friendship that blossomed into something more was really sweet to watch. Ren was also a really supportive friend for Lina as she struggles with the loss of her mother. I wish that Ren hadn't had a girlfriend, because that just became a weird, unwanted complication. I don't think Mimi was needed.
I also really enjoyed the mystery of the journal. How Lina got to experience a younger version of her mom, who led her on quite a mystery. The journal just added a very interesting element to the story.
I will say, I don't like reading sad books. I don't like being sad, or thinking about losing a family member. I'm glad to say, this was a mostly happy, cute book, but I couldn't imagine, and do not want to imagine, Lina's pain of losing her mom. That part was sad. It just makes me appreciate how lucky I am to have my family and health.
I did notice a couple typos/editing mistakes while reading. I'm not a grammar enthusiast, but the mistakes did halt the flow.
This book was so much fun and a great debut! I really, really liked it. I will look out for Jenna Evans Welch's next book. If you want a cute, fun read, then I would say definitely pick this up!
BOOKCITEMENT LEVEL 4/5
Oh What Fun!