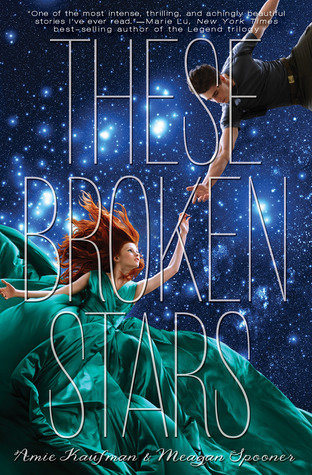 Title: These Broken Stars (#1)
Author: Amie Kaufman and Meagan Spooner
Published by: Disney Hyperion
Released: 2013
Summary: Lilac and Tarver come from two different worlds. Lilac is the daughter of the richest man in the universe, while Tarver comes from a modest family and has become a highly decorated military officer. They are traveling on the Icarus, the biggest luxury spaceship in the galaxy. When Tarver and Lilac meet, the attraction is instant, but there is no hope for any romance to bloom. Then the unthinkable happens, the Icarus crashes. Lilac and Tarver are the only survivors on an uninhabited planet. They must work together to survive, but there might be more to this planet than meets the eye. A breathtaking space saga that is a great start to a new series.
My Thoughts: 5 stars! Loved it, loved it so much. I've really been into space books lately, and this one was just fantastic.
I loved Tarver right from the start. He was such a dependable, honorable guy and I wanted the best for him.
Lilac was an interesting character in that I grew to like her. In the beginning, she seemed to be a mean little rich girl, but as the story progressed, she grew and changed and became a person that was worthy of Tarver's affection.
I really loved the background and setting of the story. The Titanic-like Icarus, the vaguely Victorian time period, and just the mystery and suspense of this strange, uninhabited planet.
I also really enjoyed the survival aspect to the story and the love that develops between the characters. The mystery of the story kept me intrigued and reading until the end.
I did feel like I read this book kind of slowly, but I think that was more me than something being lacking in the book.
So, I loved this book. Loved the space, survival, mystery, love thing that was going on throughout it. I really came to like both of the characters and rooted for them. There was also some twists that really surprised me. I can't wait to read more in this series. Kaufman and Spooner made a great team and created a beautiful space epic. I'm definitely gonna recommend this book to as many people as possible.
BOOKCITEMENT LEVEL 5/5
Out of This World Good!