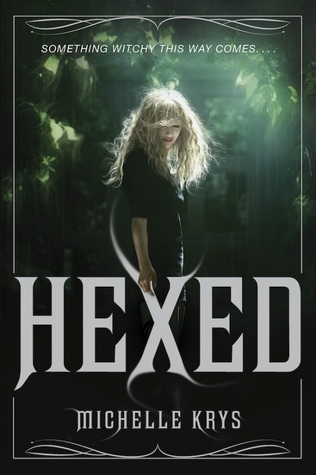 Title: Hexed (Hexed #1)
Author: Michelle Krys
Published by: Delacorte Press
Released: 2014
Summary: The most important things in Indigo Blackwood's life so far have been cheerleading, being part of the perfect couple, and being popular. She lives the regular teenage existence in sunny L.A., but all that changes when a mysterious boy dressed in leather shows up and a family heirloom is stolen from her mom's shop. Suddenly Indie is thrust into a life she never knew existed. A life of witches, sorcerers, and a mad dash to save the world. It's kind of hard to be popular when she's surrounded by this weirdness. Indie will have to choose what is more important to her, high school popularity or saving the world.
My Thoughts: My overall opinion of this was that it was good. I liked it. It mostly provided me with a supremely fun read. I loved the mad dash around L.A., the bickering between Indie and Bishop, and the secret world that we got to find out a little about.
I really loved the first half of this book. It was so quick and fast paced, and most importantly it was just really fun to read. I love a good, fun book. I don't need serious issues, Austen like writing, or massive amounts of world building to deem a book good. What I base pretty much all my rating off of is whether I enjoyed the experience of reading the book, and I definitely enjoyed the majority of this one.
I really liked Indigo's relationship with her mom. Having parents is such a scarcity in most YA. I also really enjoyed Indigo and Paige's friendship. Bishop and Indigo were a lot of fun too. This book was just really fun.
Then around the middle of the book, things got serious. That kind of took some of the fun away for me. The situation was so sudden and so shocking, and I had a hard time believing it was real. That took away some of the lightheartedness from the story, which was sad, because that lightheartedness was what made it so much fun to read. I also had some questions about the whole witchcraft thing, and this world of sorcerers and witches, The Priory and The Family. They were kind of absent from the story.
I enjoyed the ending, although I did greatly questions Indigo's plan. I doubted that her "plan" would even work. She's lucky that it did really. The end end made me very curious for the next book, which I do plan to pick up and read hopefully soon.
So all in all, this was a refreshing read. It wasn't aiming to be the next great classic and I appreciated it for that. Sometimes all you want is a fun book to pick up and enjoy, and this was definitely that for me.
BOOKCITEMENT LEVEL 4/5
Fun Times.