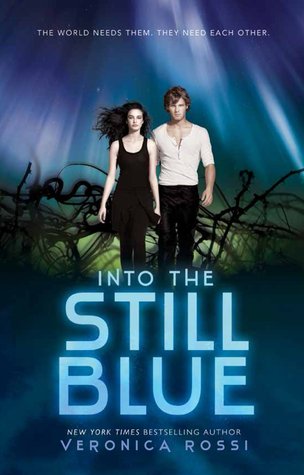 Title: Into the Still Blue (Under the Never Sky Book #3)
Author: Veronica Rossi
Published by: HARPER
Released: 2014
Summary: The hunt for the Still Blue is on. Perry and Aria are in a race against Sable and Hess to get to it. They must also rescue Cinder, who is being used as a tool by Hess and Sable for his abilities. Survival for the Tides and the Dwellers rests in the hands of Perry, Aria, Roar, and Soren. Finding the Still Blue is the only chance for survival in this dangerous, Aether ridden world. The stunning conclusion to the fantastic Under the Never Sky trilogy.
My Thoughts: Another completed series to add to my list. This trilogy is fantastic. I loved every second of the journey it took me on. This last book, Into the Still Blue, was a lot of fun and satisfying. This book was full of action and was a very quick read. There was danger, romance, surprise, and heartbreak. I had a lot of fun reading this one and plan on reading the two novellas, so I can get more of these characters and this world.
My favorite aspect to this series has to be the world that's presented. I love a good post-apocalyptic tale, where the struggle for survival is real and the world is out to kill you. The Under The Never Sky trilogy presents such a beautiful and deadly world, I loved reading about it.
I'm also a big fan of all the characters. Perry and Aria are great characters and it's fun experiencing the story from their points of view. I like all the other characters too. Roar is fantastic, you just root so much for Cinder, Soren really grows on you in this one. As a reader, I just wanted all the Tides to survive. They feel like a real community of people living in this dangerous world.
There was a little bit of heartbreak in this one, I won't lie. We lose some people in this book. Every time we'd lose someone, there was a part of me that just didn't believe it, that was sure they would come back somehow.
This whole series is just a win. Fun world, fun characters, an engrossing and dramatic adventure. I just really like it. My favorite book in the whole series is probably the second, Through the Ever Night. Into the Still Blue was a satisfying conclusion to a great series. There's a big part of me that didn't want it to end, but I knew it had to. I would love to maybe one day be able to experience their future lives, revisit them a little. Veronica Rossi has become an author I'm going to keep my eye on and I'll be sure to read whatever she writes next. Definitely a book and series I recommend.
BOOKCITEMENT LEVEL 4/5
A satisfying conclusion to a fantastic series.