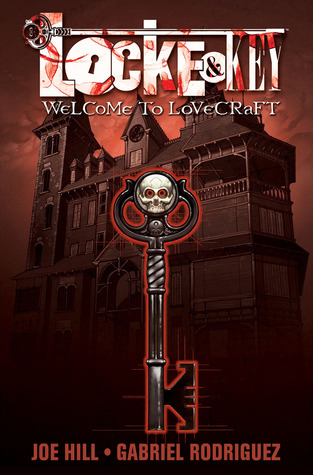 Title: Locke & Key Volume 1: Welcome to Lovecraft
Story by: Joe Hill
Art by: Gabriel Rodriguez
Published by: IDW Publishing
Released: 2011 or earlier
Summary: After a violent home invasion kills their father, Tyler, Kinsey, and Bode move to the New England coast to start anew. They move to the Keyhouse. A strange house with mysterious doors that lead to all kinds of places. The Keyhouse might hold an unnatural enemy to the family too. Strange things are happening to the family and there are many more strange things to come.
My Thoughts: This was an experience that I highly enjoyed. Creepy, disturbing, and addictive. A wonderful introduction to the Keyhouse and the Locke family. Can't wait to read more of this series and find out what happens next.
I've been interested in reading more graphic novels recently and have relied on recommendations from booktube and Goodreads. Locke & Key had been a series I had heard a lot about, so I decided to check it out. I'm glad I picked this series up. It's very interesting and full of mystery. It also has that dark tone to it, the reader knows that there are many more dark things to come.
I really enjoyed the art style too. At first, I wasn't sure if I would, but the art fits the story so perfectly. The whole book is really put together so beautifully. Full color illustrations on glossy pages make the reading experience that much greater.
I really enjoyed all the characters too. The siblings are believable in dealing with their grief and being true to their age. I just like the siblings, how they interact with each other and how the tragedy has hit them.
Loved it and can't wait to read more in the Locke & Key series.
BOOKCITEMENT LEVEL 4/5
Creepy and Good!