This Reading Right Now! post is going to be more like a reading wrap-up because I've finished two books today and have started another one. I wanted to include everything. Maybe I should include monthly wrap-ups on my blog. I don't know if I'll do it, but I'll think about it. Anyway, onto the reads!
FINISHED
1. The Vault of Dreamers (The Vault of Dreamers Book 1) by Caragh M. O'Brien: I finished this in the early afternoon of Friday. It was awesome! So many twists and turns. It read like a thriller and it was just a very captivating story. This story is about an elite art school where the students are videotaped all the time. Their lives are broadcast on a reality show called the Forge Show. Students stay in the school and on the show based on their popularity numbers. The students are also all required to take a sleeping pill every night that knocks them out for 12 hours. The school says this is to increase creativity and artistic productivity. One night, Rosie Sinclair skips her sleeping pill and witnesses something strange. Rosie then becomes suspicious as to what's really going on in Forge Academy and vows to find out and expose it. To me, this book was a mix of Big Brother and Shutter Island. I was just as curious as to what was going on at this school as Rosie was. And the same time Rosie was suffering from doubts, I was too. I really enjoyed this book. Even though the ending really made me question just what is going to happen next and what's ultimately going to happen with Rosie. This one was definitely good and I highly recommend it.
2. Y The Last Man: Cycles: Volume 2 by Brian K. Vaughan, Pia Guerra, Jose Marzan, Jr.: I next read this and I flew through it quickly. One reason for that is because it's a graphic novel and graphic novels are very quick to read. The second reason for reading it quickly is because I enjoyed it. This is the second volume in the Y The Last Man series and it's a really interesting series to read. This series is about some kind of mysterious plague that kills off every male on Earth except for Yorick Brown and his male pet monkey Ampersand. In this second volume, Yorick, Agent 355, and Dr. Mann are on a trek across the country to find Dr. Mann's backup research lab and hopefully come up with some type of reason for why all the men are dead and some scientific way to save human and animal kind. I enjoyed the first book a little more than this one, but the series is really good and I recommend it to people who are interested in trying out graphic novels.
Just Started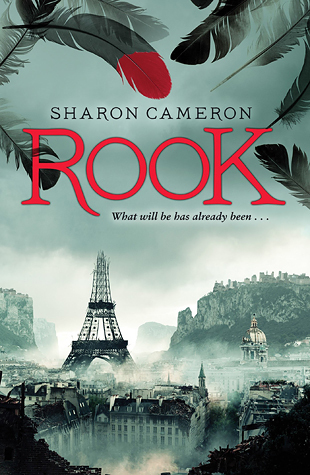 3. Rook by Sharon Cameron: I literally just started this one. I'm probably only on page three. All I know about this one is that there's a sunken city of Paris, the guillotine is back in service, and someone called the Red Rook is taking people out of their prison cells before they can meet the guillotine. I saw this book on the new book shelf at my library and thought I would give it a try. Looking at Goodreads.com, it has mixed reviews. Some people really like it, some just like it, and some had to DNF it. I'm interested to see what I think of it. It sounds interesting, and that's enough of a sell for me to read it.
So that's what I've read this weekend and what I'm planning to read next. What are you Reading Right Now? Tell me in the comments below. I've had a pretty good weekend of reading so far and I hope that I'm able to put more books under my belt. I think this weekend could be the start of booktubeathon too, although I'm not exactly sure on that. I don't know for sure if I'll be taking part. Sometimes readathons tend to stress me out and I end up reading less, too much pressure maybe. But yeah, that's it for this Reading Right Now! post.