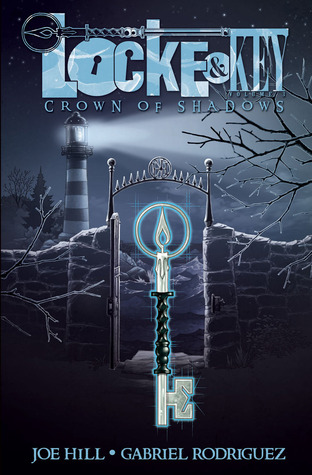 Title: Locke & Key Volume 3: Crown of Shadows
Written by: Joe Hill
Art by: Gabriel Rodriguez
Colors by: Jay Fotos
Letters by: Robbie Robbins
Published by: IDW Publishing
Released: 2011
Summary: The strangeness continues in the Key house. The Locke family is still struggling to return to some sense of normal. Mrs. Locke has turned heavily to alcohol, which causes a lot of stress for the kids. Dodge is still a hidden enemy, searching desperately for all the keys. The mystery deepens and danger abounds in this third volume to the Locke & Key saga.
My Thoughts: Another enjoyable edition to the Locke & Key series. I won't say this is my favorite of the series, but it was still fun. It didn't feel like a lot happened in this volume, it just continued to build upon the ongoing story. I feel like this is going to be a short review because I don't have a lot to say about it. This series is interesting, mysterious, and a lot of fun. I'm excited to read the next volume to see where the story goes.
If you are a fan of graphic novels and slightly weird stories, then you should check this one out.
BOOKCITEMENT LEVEL 4/5
Another fun edition to this series.