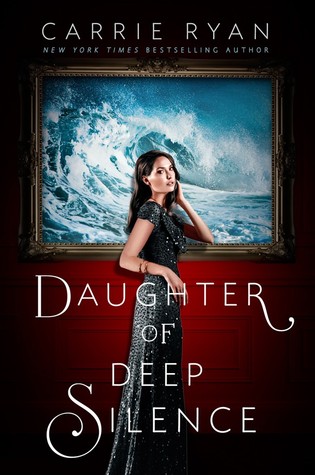 Title: Daughter of Deep Silence
Author: Carrie Ryan
Published by: Dutton Books
Released: 2015
Summary: Frances Mace's life ended on the day the Persephone was attacked. She watched her parents die before her eyes. Stuck on a life raft for seven days with no food or water, she thought she would die too. Her friend Libby did die on that life raft. When Frances is rescued, she learns there were two other survivors of the massacre, Senator Wells and his son, Frances' first love Grey. But instead of telling the truth about what happened to the Persephone, they lie and say a massive wave took out the cruise liner. Frances is filled with a rage, a rage that calls for vengeance. She takes the identity of Libby, buries her old self, and vows to uncover the truth of what happened that night while destroying all those responsible. Even Grey won't escape her rage. Revenge is coming for the Wells family, coming quickly.
My Thoughts: I was very, very excited to get my hands on this book. I really love Carrie Ryan's stories and when I heard this blurbed as like the TV show Revenge, I was even more excited. Also, lets just appreciate the fact that this is a standalone, which is refreshing in a world full of series and sagas.
I think blurbing this as Revenge was an accurate representation. I'm a big fan of Revenge, so I was onboard with this sort of story. Frances/Libby and Emily/Amanda share some similar traits, but also differences. Emily was able to create a whole new identity for herself while Frances stepped in to someone else's life. Emily is a colder sort of person than Libby too. I found Libby really interesting because she really didn't have a true identity to cling to. Frances died the day she chose to become Libby and Libby died her natural death. She wasn't Frances anymore, but she wasn't a true Libby either. She kind of existed in this weird, in-between place. It was kind of sad because she was really so alone.
As far as the whole revenge plan went, I found it really interesting. I won't say I was satisfied with the overall reveal of why everyone on the ship was killed, I expected something grander and more sinister. And Libby's plan was like on fast-forward. I guess I was expecting layers and layers of intricate plots that would combine into one grand finale, but I can understand that it had to come together quickly to make for a 375 page book.
As far as the love interests went, I was ambivalent. I thought more was going to happen with Shepherd. And Grey, I wasn't mad that he was the "it" boy, but I wasn't fawning over him either. I also had a little trouble accepting the intensity of feelings that sprang between two 14 year olds who only really knew each other a week.
The story was a really quick read. There were short chapters with a fast pace that just begged you to sit and keep on reading.
Carrie Ryan produced another win with Daughter of Deep Silence. It's a fun, quick revenge tale that will keep readers entertained and racing to the last page. I'd definitely recommend this one.
BOOKCITEMENT LEVEL 4/5
Fun!