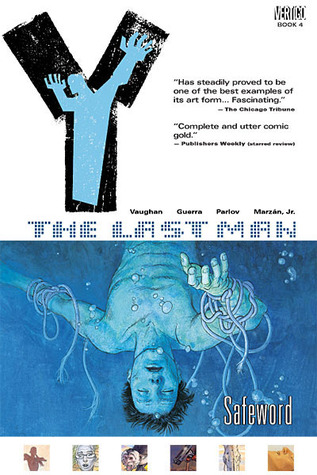 Title: Y: The Last Man: Volume 4: Safeword
Written by: Brian K. Vaughan
Pencillers: Pia Guerra and Goran Parlov
Inker: Jose Marzan, Jr.
Published by: DC Comics
Released: 2004
Source: Library
Summary: Yorick, 355, and Dr. Mann are still on their way to San Francisco. Poor Ampersand is sick and needs medicine, but it is too dangerous for Yorick to go to the hospital. 355 calls up an old friend and former agent to watch Yorick. They also run into a militia group called the Sons of Arizona that makes their passage a little difficult. At this rate, they will never get to San Francisco.
My Thoughts: Feels like it's been a hot minute since I've read a Y: The Last Man volume. With this comic series, it is so easy to just jump right in the saddle again. Yorick provides the humor and sass, while 355 does all the work. There's also no shortage of crazy women.
The first half of this Volume was super weird. 355 has a weird friend. I was honestly concerned for Yorick's situation.
The second half of the Volume was a little more fun. More of what I'm used to and expect from this series.
Yorick, 355, Dr. Mann, and Ampersand are just fun to read about. Although, I do question if they will ever get to San Francisco.
BOOKCITEMENT LEVEL 3.5/5
That was a little weird there for a moment.