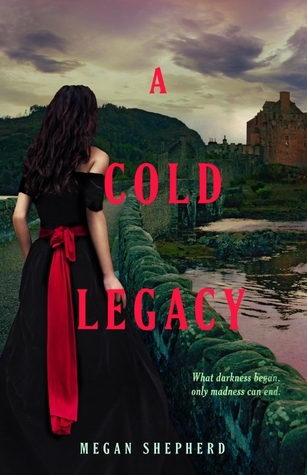 Title: A Cold Legacy (The Madman's Daughter #3)
Author: Megan Shepherd
Published by: Balzer + Bray
Released: 2015
Summary: Juliet is on the run looking for sanctuary. After beating the King's Club in a tale of horror and madness, Juliet and her friends must find somewhere safe to stay. Luckily, Elizabeth Von Stein has given them directions to a family manor that can hide them. When they come to Ballentyne Manor in the Scottish moors, they find a place straight out of a classic horror tale. The manor hides its own secrets and is also the home of the late Victor Frankenstein and his mad science. But Ballentyne can hide them and possibly cure Edward who is fighting for his life. Juliet gets thrust into more secrets in the manor and must battle her own madness to find her destiny.
My Thoughts: My feelings are bittersweet. When I first picked up The Madman's Daughter, I fell into this delicious world of gothic horror and madness. Now, finishing the third and final book in the series, I am left with a slight feeling of sadness. The sadness comes from knowing that Juliet's journey, while not over, is finished for the readers. I really could read book after book in this series and be oh so happy. I love this series and these books, and facing the reality of its end is a sad one indeed. I love the way Megan Shepherd tells a story and I will read every other book she decides to produce. I think readers will be satisfied, mostly, with this concluding book.
I really did enjoy this final book. I don't think I would classify it as my favorite of the series, but it was still very enjoyable. There is pretty much action on every page, with enough twists and turns to make your head spin.
The setting of Ballentyne Manor (cue thunder and lightning) was perfection. The manor was so creepy and full of secrets. It was a great, creepy setting.
As in all the other books, Juliet is still battling her evil demons. She thinks she's destined to turn out wrong because of what her father was. I've always enjoyed this struggle of Juliet's. She's not a perfect, innocent character and sometimes her choices show that.
And yayy for the creepy, gothic gore! I loved it and it is something Megan Shepherd does so well. In here we get dead bodies galore, creepy children, the beast, and so much more. It's just fun reading.
Now as for the end, I'm semi-satisfied. It kind of leaves it open, but concludes the story at the same time. Of course I want more, but I'm satisfied with what was given to me.
One thing about this book is that there was something happening on every page. So many twists and turns going on, but some of them ended a little prematurely for my taste. And some things got wrapped up, but I still had more questions. There were a lot of villains in this book, and all their ends seemed to come rather quickly. Yes, all the twists and turns were fun, but I got a little whiplash from one to the next.
I'm pleased that the love interest went in my direction. The guy that Juliet ended up with was perfect for her, and he always had a soft spot in my heart.
So yeah, I love this series and this last book was great and bittersweet. I'm sad the series has come to an end, but am so glad I got to experience it. This whole series is fun and so creepy. Everyone should go read it and experience the madness themselves. This will be on my list of favorite series for a long while to come. Farewell Juliet, Montgomery, Edward, Balthazar, Sharkey, Lucy; it's been a blast!
BOOKCITEMENT LEVEL 4/5
Wonderfully Mad