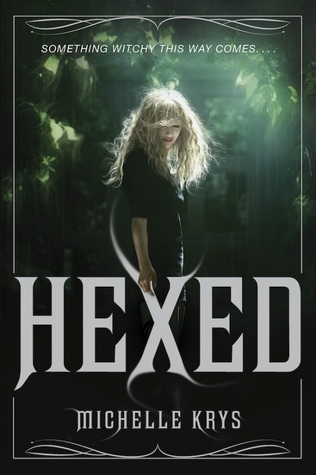 Title: Hexed (Hexed Book 1)
Author: Michelle Krys
I'm on page 252 of 384 pages which makes me 66% through the book.
So what I'm Reading Right Now! is Hexed by Michelle Krys. I saw this while browsing a shelf at the library and remembered hearing good things about it from a booktube video or something. I knew it had something to do with witches and thought, hey I like that stuff, I'm gonna give it a try. And another minor detail that sold me is the book without the dust jacket. It has such a cool bare cover underneath.
So I'm gonna keep this short and sweet. I think all you really need to know about this one is that it involves magic and witches. Go into the rest of this one blind and I think you'll be happy. I'm really enjoying this one. It has so far been a really fun book. There are some books I read that from the first page I just automatically like, and this one has been one of those. It's really quick and fast paced. There's a little high school drama that can be either hit or miss, but it fits with the story and the characters. So yes, fun fun fun describes this book perfectly.
So that's what I'm Reading Right Now!
Here's what I'm hoping to read next!
The Moth in the Mirror (Splintered Novella 1.5) by A.G. Howard
and
Roar and Liv (Under the Never Sky Novella 0.5) by Veronica Rossi
I checked these two novellas out through my library's e-book/overdrive program and want/need to read them. The Moth in the Mirror because I have this unexplainable, sick urge to push myself through this series and Roar and Liv because I recently finished this series, loved it, and want more of it.
So that is my reading plans for the weekend into the upcoming week. Tell me what you're Reading Right Now! Have you read any of the fine books on my list?