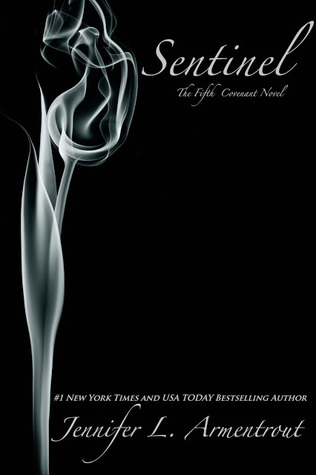 Title: Sentinel (Covenant #5)
Author: Jennifer L. Armentrout
Published by: Spencer Hill Press
Released: 2013
Summary: The final battle has come. Alex must prepare to fight in order to save her friends, family, really the whole world, from a sick freak who wants to bring it down. That might be a lot of pressure for your average girl, but Alex can handle it no problem. Plans will be made, training will commence, and the gods will have to put their faith and future in the hands of Alexandria Andros. Is that the best plan? Probably not, but Alex is all they've got. This is the conclusion to Jennifer L. Armentrout's Covenant Series. Let the final battle commence.
My Thoughts: Thank goodness I am done with this series! I can honestly say I read them all, tried them all, and gave each one a fair shot to impress me. Unfortunately, none of them did. The praise for this series is high, each book contains about three pages of such praise from bloggers, but I never felt like they did. I wish I would have. I wanted to love it and jump on the Jennifer L. Armentrout bandwagon. I hope I love her other books and series much more than this one. As a conclusion to the series, this book was alright.
This final book had a lot of downtime/occasinally draggy bits in it. It seemed like we'd have one scene of action followed by sitting and waiting for the next fight. The really good action scenes didn't really begin until page 230 or something, which was a little disappointing. I expected non-stop action and danger in this grand finale, but it wasn't there.
I also got tired of the overabundance of mushy gushy romance, where every time could be the last time. The constant bickering between Seth and Aiden just made me want to yell GROW UP! And Alex's constant snarky comments aren't funny or endearing, they are just annoying.
The very very end was okay. The overall conclusion was satisfying and didn't leave me wanting.
As for my thoughts on the series as a whole, I'm not a fan. I can honestly say I read them all and gave them all a fair shot to captivate me. My main problem with this whole series has been mentioned before and I'll mention it again, I can't stand the main character Alex. She's cocky, annoying, never shuts her mouth, makes bad decisions on the daily, and mostly just thinks she's the greatest thing since sliced bread. I couldn't stand her. Most times I just wanted to give her a spin-kick to the face. An unconscious Alex and I would have gotten along a lot better. I just struggled to get through each and every book and she was the cause.
I'm not sorry that I read the series, just disappointed that I never felt the love for it. I'm definitely going to try other JLA books and hope I love them so much more. Sentinel as a conclusion book was okay. I'm glad I stuck around to see what would happen. The series as a whole was a disappointment just because of Alex. If I never have to see her again, it will be too soon. To all those who love Alex and this series, just ignore my ranting and raving. I gave her a try, but she just wasn't for me.
BOOKCITEMENT LEVEL 3/5
Yes!! I Don't Have To Read Any More Covenant Books! Or Any More of Alex Andros (man is that girl annoying)!