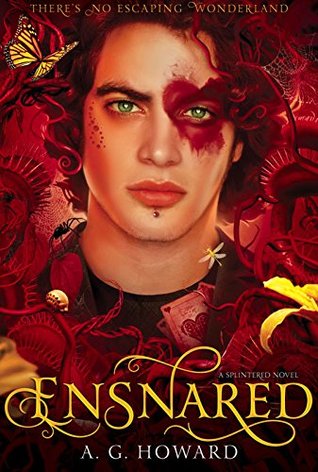 Title: Ensnared (Splintered #3)
Author: A.G. Howard
Published by: Amulet Books
Released: 2015
Source: Library
Summary: The epic battle for Wonderland is finally here. Alyssa has to save everyone by defeating the Red Queen. Jeb and Morpheus are stuck in a dangerous world and Alyssa can only hope they are okay. Alyssa must use her wits to outsmart Wonderland, and all of its manipulations, while at the same time embracing it. She must also battle the two sides of her heart pulling her in different directions. The fate of Wonderland rests in her hands.
My Thoughts: Honestly, I don't like this series, really at all. I kept reading because I wanted to give it a chance, the benefit of every doubt. It failed to impress me. It had too many things that annoyed me. I just didn't like it, and I'll share my reasons.
I'll start with the pros first. I think these books are beautifully designed. They look nice, they feel nice, and they all capture that feeling of Wonderland. I also thought the ending had some good moments.
My first complaint is, I felt like a whole lot of nothing happened in this story. It was chunky, and I thought there would be more intense battles for Wonderland. The majority of the story was really slow, not a lot happened. It wasn't the exciting finale I was expecting. In my opinion, the first book, Splintered, was the best of the series.
My second major gripe was the rage inducing love triangle. Too much attention was focused on it, and the resolution was one of the biggest cop outs I've ever read. Highly unsatisfying. This feeling could have a lot to do with how much I despise Morpheus. I think he's slimy, manipulative, and I always expect the worst from him. I don't get his appeal. There are bad boys, and then there are garbage boys. I didn't find anything he did remotely romantic, just annoying. I also felt like Jeb got the raw end of all the deals. He deserved a girl who loved him and only him, not someone who wavered back and forth. This headache inducing love triangle tainted the whole story for me.
I also got annoyed by Alyssa a lot. I don't do well with characters who don't think things through. She was too reckless and stupid for me most of the time, and drunk on her own power.
My last gripe was with the epilogue, I just felt it fell flat. I wanted more details. I wanted to witness more moments. Why is one part focused on, and the other ignored?! I am planning on reading the novella story collection, so maybe that will give me more closure.
I did not enjoy this Wonderland tale. It was too weird, and too annoying. This ending left me lukewarm. Not much happened, and what did tended to annoy me. It felt like key details or scenes were just glossed over or left out. Not my kind of story or series. These opinions are my own and not meant to hurt the feelings of people who love this series. It just wasn't for me.
BOOKCITEMENT LEVEL 2.8/5
Keep this Wonderland far away from me.