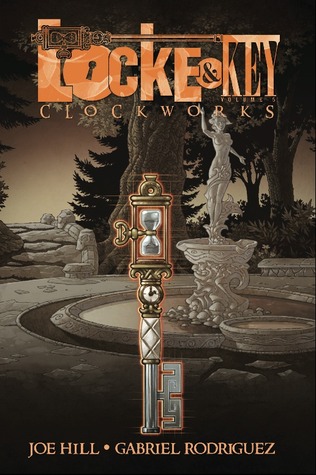 Title: Locke & Key, Volume 5: Clockworks
Written by: Joe Hill
Art by: Gabriel Rodriguez
Colors by: Jay Fotos
Letters by: Robbie Robbins
Published by: IDW Publishing
Released: 2012
Source: Library
Summary: The ultimate battle for the Key House is coming. Dodge is gathering everything he needs right under the nose of the Locke kids. Tyler and Kinsey are still trying to figure out the purpose of the keys. Danger awaits around every corner, and it's up to the Locke kids to protect the keys.
My Thoughts: This was an interesting volume in what it offered, backstory. I enjoyed learning about events before the current Locke children, and witnessing what led to the situation now faced.
I did think this volume before the finale was going to be a little more exciting, have a little more oomph, so it was surprising when it didn't end up going that way.
I also kept expecting the traitor-in-their midst to be revealed, and that didn't happen either. That can only lead me to believe the finale is going to be crazy and intense.
Locke & Key is an interesting graphic novel series that has been fun to read. I'm very interested to see how it all ends, and how the Locke kids get out of this situation alive.
BOOKCITEMENT LEVEL 3.8/5
The Past Comes To Play