What I'm Reading Right Now! is...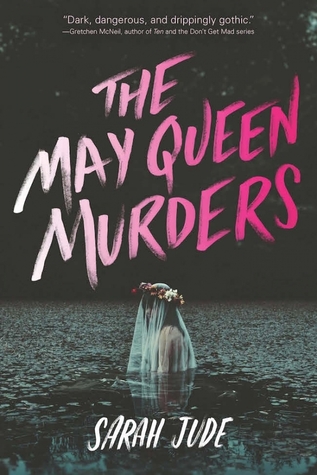 Title: The May Queen Murders
By: Sarah Jude
I won this through a FirstReads Goodreads giveway, so thank you to Goodreads and Houghton Mifflin Harcourt for providing me with an early copy to review. It's already been released. Came out on May 3rd, 2016. I was really pulled in by the cover and the vague synopsis mentioning evil woods. I'm not very far into the book at the moment, I'm on page 52, which makes me like 17% through the book so far. I'm not really sure what's going on, it's kind of weird.
So what I can tell you about the book so far is that our main character is named Ivy and she lives in a place called Rowan's Glen. The Glen tries to keep itself separated from the outside world. They supply themselves their own electricity, all clothes are hand-me-downs, and the girls don't cut their hair. People outside The Glen believe them to be part of a cult. Ivy is also very superstitious, which comes from the stories her Mamie has told and the beliefs the community shares. Ivy has been told all her life to stay away from the woods at night. Sometimes she can hear screams coming from them. Lately, there has been the disappearances of pet dogs and cats, and some dead animals have been found close to the community. There is something going on, but I'm not sure what yet.
What I'm enjoying about this book so far, is the mystery and the creepy atmosphere. I'm excited to learn what's going on and what's going to happen. As a main character, Ivy doesn't steal the show, but than she's not supposed to. She's kind of meek and mouselike, standing in the shadows of her more vibrant cousin Heather. But I think something might happen to Heather. So far, the book just has an eerie sort of vibe to it which I always enjoy.
I'm glad I won it. I love winning arcs. I wish I was cool enough to get them all the time. Of course, then I would really have to do something about my library addiction. Maybe I could cure myself, or at least get myself under control, if I was gifted with arcs all the time!!
If I finish The May Queen Murders, then I might try and get to...
Title: No One Else Can Have You
By: Kathleen Hale
I've been interested in this one for a little while because of the cover, the synopsis, and the controversy surrounding this author. The story sounds like one of those weird ones that I do enjoy. And just the fact that the author stalked a reviewer is pretty crazy. I don't agree with the stalking, but I also don't agree with judging a book just based on its author. I really don't like knowing anything about the author, I'd rather their name just be words on a page. Sometimes knowing how the author acts and behaves can ruin the book reading experience. I want to judge each and every book on its own merit, how it makes me feel. I don't want to miss out on a great book just because I think the author is awful. So I'm just curious about this book. I want to see if I like it, or hate it, or just think it's mediocre.
So that's what I'm Reading Right Now! What are you Reading? Let me know in the comments below. And if you've read any of the books I've mentioned, tell me what you thought of them. Happy Reading!