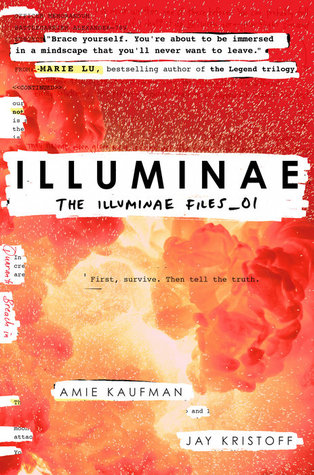 Title: Illuminae (The Illuminae Files _01)
Authors: Amie Kaufman and Jay Kristoff
Published by: Alfred A. Knopf
Released: 2015
Summary: How does this story really start? Let's back up, all the way to the beginning, with a pair of lovebirds named Ezra and Kady. Well, they used to be lovebirds. At the start of this tale, they've just broken up. Then their home planet of Kerenza gets blown to smithereens with them on it. What follows next is an escape through space, a terrifying disease, a rogue Artificial Intelligence, and an enemy Destroyer on their tale. Ezra and Kady will be lucky if they make it out alive.
My Thoughts: I had a little bit of a strange relationship with this book. I was super pumped to read it because of all the hype I'd heard going around booktube and the blogosphere. I was also very excited to read it because of the different type of format it is told in. I did end up enjoying the book, but not loving it like I thought I would. I think the hype kind of messed with my head, which is what hype does, and while it was a good book, it didn't give me that epic, I LOVE THIS BOOK feeling. So it's a good, enjoyable book, and I am excited to continue with the series, but I wish my expectations for it hadn't been so high.
One thing that peaked my interest about this book was the style it was told in. It's written in a series of classified reports, interviews, e-mails, chatroom messages, and other interesting styles. It's really cool to flip through and look at. About halfway through the book, the novelty wore off a little for me, just seeing the same kinds of things over and over again.
I also came to a point in the book where I just wasn't as gripped by it as I once was. I think most of the problem lay with me being in sort of a slumpy reading mood. But I think the other part of the problem lay with how long it was. I didn't speed through it like I though I would. Some parts even dragged for a me a little.
I found the two main characters to be okay. I probably found Kady more interesting than Ezra. For the most part, they were fun to read about.
All in all, I enjoyed this book, but I don't think it's going to be one of my favorites for the year. I let the hype get to me and had my expectations built so high, that the actual story didn't quite reach for me. This was definitely a fun read, and I'm excited to read the sequel when it comes out.
BOOKCITEMENT LEVEL 4/5
pretty fun