Another month has come and gone, and it's the first one of 2017! I'm pretty proud with the number I read this month. I'm currently ahead on my GoodReads 2017 Reading Challenge, which is a great feeling. That could definitely change the further I get in the year, but right now, I'm ahead.
So, I read 10 things this month, 4 comics/graphic novels and 6 books. So here's what I read, and my ratings!
--Lies I Told (#1) by Michelle Zink-- 3.8/5-- I think I was in a little bit of a I don't feel like reading mood when I read this, which caused me to read this really slowly, but I definitely did enjoy it. The premise is just something I like. It's about a family of grifters who move to this beach community for their next big score, but our main character has to decide if what she's doing is right or wrong. I liked it, and I can't wait to read the sequel.
--Y: The Last Man, Volume 8: Kimono Dragons by Brian K. Vaughan, Pia Guerra, Goran Sudzuka, Jose Marzan, Jr.-- 3.5/5-- I'm getting close to being finished with this series. I liked this Volume, but I didn't love it. I did like how Yorick and Agent 355 were a duo again in this. I'm still not liking Dr. Mann that much. Alison is just a prickly character that I have a hard time trusting or liking. Excited to see where this one goes next.
--Bluescreen (Mirador #1) by Dan Wells-- 4/5-- I'm a Dan Wells fan, and I thought this book was fun. I'll continue on with the series.
--Chew, Volume 6: Space Cakes by John Layman and Rob Guillory-- 4.5/5-- I Love Chew!! Tony was out-of-commission for most of this volume, with being in the hospital, in a coma. And this one was kind of sad because we lost someone. Chew is always just fun for me to read.
--Sleeping Giants (Themis Files #1) by Sylvain Neuvel-- 4/5-- I liked this one. I was surprised by how real the characters felt in a novel told entirely through interviews. I did feel like there were some weird time jumps. I'm excited to see where this goes next.
--Tales of the Peculiar (#0.5) by Ransom Riggs-- 4/5-- This was fun and weird. My favorite part was the design of this book, it was sooo pretty.
--Every Heart A Doorway (#1) by Seanan McGuire-- 3.7/5-- I liked this, but I felt like it was overhyped. The beginning was a little slow, with a lot of info-dumping concerning the world. The second half was pretty good with the murder mystery, although that ended too quickly, and the murderer became fairly obvious. A big problem was, it was too short. So, I wouldn't say not read this, but just don't attach yourself blindly to that hype train.
--Locke & Key, Volume 6: Alpha & Omega byJoe Hill and Gabriel Rodriguez-- 4/5-- I finished a series!! I was satisfied with how this ended.
--Labyrinth Lost (Brooklyn Brujas #1) by Zoraida Cordova-- 3.2/5-- This was my least favorite of the month. I just thought the main character was boring. There was this character Rishi, that I just had no use for and really questioned why she was in certain scenes. Like, I know why she was in there, but I didn't buy the reason for it at all. It was also this weird feeling of being a fast-paced book, but I just didn't care what was happening in it. Felt like a weird dream that I didn't really want to be a part of.
I did love the character of Nova in this book. If I read the sequel, I hope I get more of him in it.
--Nailbiter, Volume 3: Blood In The Water by Joshua Williamson, Mike Henderson, Adam Guzowski, John J. Hill-- 4/5-- I'm super interested in this series. It is very violent, very disturbing, and I want to know what is going on in this town! I thought I was going to find out some secrets, and then I was rudely slapped with a TO BE CONTINUED...
Definitely plan on continuing this, but it might be a while until I can get my hands on the next volume.
My TV Addiction For The Month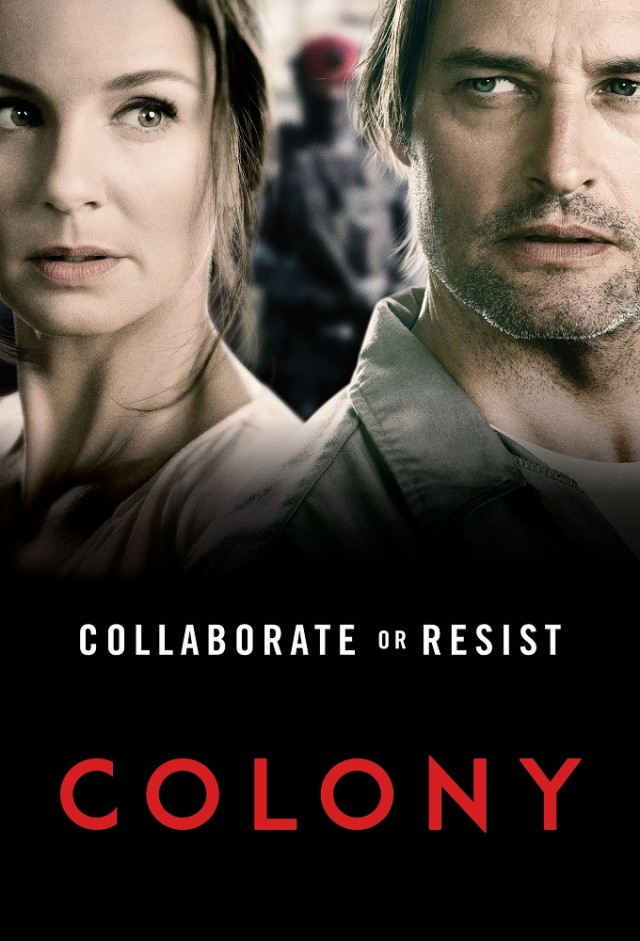 I think this is an alien show. Well, I'm pretty sure this is an alien show, but we haven't exactly seen the aliens yet. Something came down and took over the world, and the world is forever changed. The United States has been separated into different colonies and no one is allowed out of their colony. We're not even sure what happened to the rest of the world. In Colony we are following one family, who are trying to survive, and trying to find the son they got separated from on the day of the invasion.
Main reason for watching this one... Josh Holloway. I am not ashamed. In Lost, I loved Sexy Sawyer, and I can stare at his face, and his amazing dimples in this again. How could I not watch it? He's adorable!
So far in the show, I'm a fan of Josh's character, who's name is Will. I'm not the biggest fan of his wife's character. I can't remember her name right now, but she played Lori on The Walking Dead. So I binged Season 1 on Netflix, and now I have the long wait for Season 2 to be on there.
So that's my January 2017. How did you do? What did you read? What did you watch? Let me know in the comments below!
all images found through google image search. I do not own any of the images.