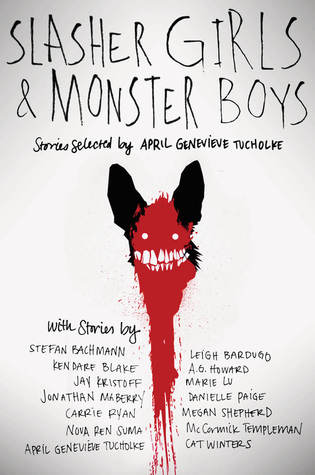 Title: Slasher Girls & Monster Boys
Various Authors
Edited by: April Genevieve Tucholke
Published by: Dial Books
Released: 2015
Source: Library
Summary: Once upon a dark and stormy night, 14 authors came together with the purpose to scare you silly. The creepy, the crawly, and the messed-up reside within these pages. The nightmares will be real once you encounter the monsters within. Let the screams for mercy begin.
My Thoughts: WINNING! This was an awesome anthology of scary stories. Sometimes stories promise to be scary, but end up only as disappointments. All the stories collected in this volume have deliciously creepy and sinister vibes to them. I really thought this was great. I didn't hate any of the stories, and I loved how dark they all were. My favorites of the bunch were: In The Forest Dark and Deep by Carrie Ryan, which involves the most messed-up tea party, Hide-And-Seek by Megan Shepherd, a game played like her life depended on it, and On the I-5 by Kendare Blake, in which a deadly cycle is brought to life.
Another cool thing about all these stories is that they are all inspired by books or movies. It was fun to try and guess what inspired them. And the end of each story revealed the inspiration.
Really, really enjoyed this anthology. It succeeded on the creepy scary, which can be a tough thing to do. I definitely recommend it to horror loves and it's perfect for Halloween.
All The Stories in the Anthology and What I Rated Them
The Birds of Azalea Street by Nova Rem Suma - 3.5/5
In the Forest Dark and Deep by Carrie Ryan - 4.5/5 -
FAVORITE!
Emmeline by Cat Winters 3.5/5 - creepy
Verse Chrous Verse by Leigh Bardugo - 3/5
Hide-And-Seek by Megan Shepherd - 4/5 -
FAVORITE!
The Dark Scary Parts And All by Danielle Page - 3/5
The Flicker, The Fingers, The Beat, The Sigh by April Genevieve Tucholke - 3.5/5
Fat Girl With A Knife by Jonathan Maberry - 3.5/5 -
always love my zombies
Sleepless by Jay Kristoff - 3.5/5
M by Stefan Bachmann - 3.3/5
The Girl Without A Face by Marie Lu - 3/5 -
This was the most disappointing story in the collection. So predictable.
A Girl Who Dreamed of Snow by McCormick Templeman - 3.5/5 -
One of the most intriguing stories.
Stitches by A.G. Howard - 3.5/5
On the I-5 by Kendare Blake - 4/5 -
FAVORITE!
BOOKCITEMENT LEVEL 4/5
BOO!