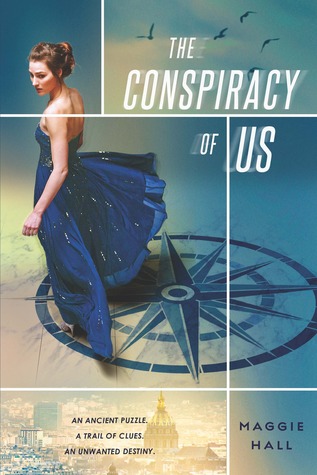 Title: The Conspiracy of Us (Conspiracy of Us #1)
Author: Maggie Hall
I'm only about 100 pages in so far, so I'm maybe like 30% finished
Welcome to another Reading Right Now! post. Hurray, Huzzah, Yippee-Ki-Yay. I'm feeling in a weird mood today. Oh, I'm writing this on Thanksgiving, so to all those who celebrate, I hope you had a really happy Thanksgiving. Anyway, I'm almost feeling a little slumpy reading wise. It might have something to do with the last book I finished. I had to finish it before it was due at the library, which meant that I had to read a big chunk of it in one night, and it left me a little reading burnt out. The sad thing is, this book is coming due to the library too, so I need to finish it pronto, and I've just been lacking in motivation to just sit down and read. I always find something else to distract me. Anyway, that's not what you came for.
I'm not really sure as to everything that's going on in this book yet. The summary, I think, gives more away then it should of, or definitely more than what's been revealed in the book so far. So I'm going to describe this in a non-spoilery way. Our main character Avery is an only child who never stays in one place for very long. Her mom's job requires frequent moves, so Avery's never been able to form any real attachments. Her dad is also MIA in her life, she doesn't really even know who he is. One day, she learns that her dad's family is very mysterious, secret, and important. And so begins the adventure of her life as she hops on a plane to France to uncover the mysteries of her family.
I'm not sure what to really think of this book yet. I don't think it has the best beginning. I feel like I got dropped into an already ongoing novel. I'm interested in the story, but my reading slumpiness is really hindering me. I hope I can get more in to this, because I think it could be a lot of fun. Probably won't turn out to be the most life-changing book, but it could be that blast of pure entertainment that I'm looking for.
So that's what I'm Reading Right Now! Tell me what you are reading below.