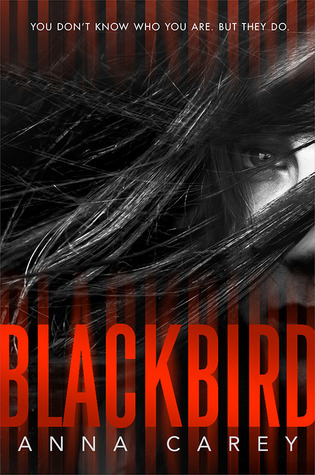 Title: Blackbird (Blackbird #1)
Author: Anna Carey
Published by: HarperTeen
Released: 2014
Summary: A girl wakes up on the Los Angeles Subway tracks with no idea how she got there or who she is. She's got a backpack with money/essentials and a fresh tattoo on her wrist of a Blackbird and the code FNV02198. She's been instructed not to contact the police, they can't help her anyway. Someone is after this girl. Someone wants to kill her. It's up to you, through her, to find out why.
My Thoughts: This is a case where reviews made me nervous for no good reason. I had heard a lot of mixed reviews for Blackbird. Many people were put off by the second person narration. So I went in to this a little nervous. I won the second book in the series, Deadfall, through a Goodreads FirstReads giveaway, and had to read the first book first of course. I was also already a fan of Anna Carey because I read the first two books in her Eve series and really enjoyed them. So I didn't know how I would feel going into this. Let me just say that I thought Blackbird was fantastic and a lot of fun. The reviews had me nervous for nothing. I didn't find the second person narration hard to get in to or annoying. The book had me gripped from the very first page, and it was so fast-paced that I just wanted to finish it all in one go.
I really loved the action, mystery feel to it. Not knowing what was going on and figuring it out with the character. It kind of felt a little like Jason Bourne, with not knowing who you are or who to trust. I was never bored in the story either. It had such a quick pace and an interesting storyline, which made for a very fun read.
My only gripe would be the ending, in that it wasn't an ending, but rather a 'To Be Continued,' like at the end of a t.v. episode. I am glad I have the sequel close by, so I won't be left in the lurch for too long.
My advice, ignore the negative reviews and try Blackbird out for yourself. It's a lot of fun and very fast paced. The whole mystery is really intriguing and you'll be left wondering what's going on just like our main character is. Blackbird is like a mini-action thriller movie in book form. It's fun, fast, and entertaining.
BOOKCITEMENT LEVEL 4/5
A whole lot of fun and what the heck is going on-ness.