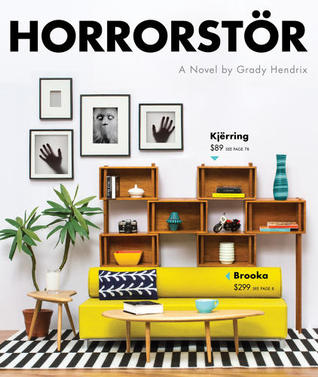 Title: Horrorstor
Author: Grady Hendrix
Published by: Quirk Books
Released: 2014
Summary: Welcome to Orsk! The number one furniture superstore in the USA. Visit our store and experience the Orsk way of life.
Amy works at Orsk, but don't go to her if you want a happy Orsk employee story. She's just working there until she decides what she wants to do next. Weird things have been happening at her store. Every morning, employees walk in to find broken furniture, dirty furniture, and broken odds and ends. This Orsk location is losing money and the big wigs want to know why.
When Amy is approached by Deputy Manager Basil with a proposition, she's suspicious. Amy's not Basil's biggest fan. She's pretty sure Basil is just looking for a chance to fire her. Basil has been put under a lot of stress to find out what's going on at the store between closing and opening hours. Basil asks Amy to work a dusk-til-dawn shift with him and Ruth Anne to find out just what is going on at Orsk.
My Thoughts: I flew through this one so fast and had such a good time reading it. It was fun and had this weird, creepy edge to it. I wasn't expecting the brand of creepy that it introduced. I knew it was supposed to be a scary/haunted house type book, but it was more scary weird than I expected. This was a lot of fun.
One thing that I've come to expect from Quirk Books is really cool designed reads. Reading one is an experience. All the added design extras just make the books that much more fun to read.
I wasn't necessarily the biggest fan of our main character Amy. She wasn't a happy person from the start and just has this way of disliking people for no real reason. She has this beef with Basil, the deputy manager, and I think she just dislikes him because he's slightly younger than her and a deputy manager. From what I saw of Basil, he seemed like a nice guy that was kind of looking out for Amy. So yeah, Amy wasn't my favorite character ever.
I also enjoyed all the little hidden extras in the story. I loved the showcasing of Orsk furniture at the start of each chapter and the subtle changes as the story goes on. I also found it funny how each item number contained a 666. Those were just fun, little extras.
I also enjoyed the scary story told in this book. It was different than what I was expecting; more disturbing, scary, and weird. I very much enjoyed it. I think the odd scariness elevated the story a little. It was just a fun weird and I enjoyed it.
Horrorstor was a whole lot of scary fun, I flew through it and very much enjoyed the journey. I'd definitely recommend it for a fun, Halloween read.
BOOKCITEMENT LEVEL 4/5
Welcome to Orsk, the store that will never let you leave! Mwahahahaaa