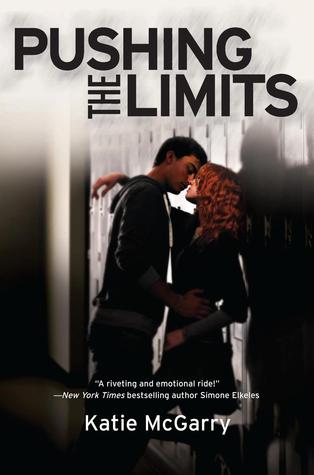 Title: Pushing the Limits (Pushing the Limits #1)
Author: Katie McGarry
Published by: Harlequin TEEN
Released: 2012
Summary: Something happened to Echo her sophomore year of high school, something bad. At the start of her senior year; Echo's arms are covered in scars, her spirit has been broken, and she can't remember what happened to cause it. When Echo is assigned to a special school therapist, she doesn't hold out for a cure. At the request of her therapist, Echo agrees to tutor the bad boy Noah Hutchins who has a reputation as a heartbreaker. When Echo meets Noah, sparks fly and she wonders if Noah can help her live again.
My Thoughts: It should be noted that I am not the biggest fan of contemporary novels. I would much rather read a dystopian, sci-fi, or even a good ol' murder mystery, then read about kids with real life issues and problems. That being said, I LOVED THIS BOOK!
I really enjoyed Echo and Noah's story. I enjoyed learning the mystery of Echo's repressed memories and journeying with her as she fought to retrieve them. Although the ultimate truth was tragic, I really enjoyed Echo's journey to find it, and in the process, find herself. I also felt very involved in Noah's predicament. The tragedy surrounding him and his brothers was so sad and I was curious to learn what decisions he was going to make for his family.
I also liked the love story between Echo and Noah. They were both individuals with flaws and problems, but together, they were able to rise up and become better, more whole people. Being together brought them each something they needed, that could only be found in that other person.
One small detail that I enjoyed was the relationship Echo had with her friends. She had some great friends (and a not so great one) who stuck by her in really difficult times. I appreciate seeing a friendship like that. True friends are something to be cherished forever. Great, great story. Loved it and can't wait to get my hand on and read Dare You To!
BOOKCITEMENT LEVEL 5/5
One of my all time favorite contemporaries. Go Read Now!