You all know of my addiction/obsession with the CW Network show called The 100. I love it, I love it, I love it. I was so worried that Season 4 was going to be the last, with all the controversy that happened with Season 3 and Lexa. There were people, I'm not going to call them fans, because they aren't, who were going out of their way to create as much negative press and backlash as they could. They wanted to kill The 100 because they were mad about how a certain storyline played out, and what happened to a side character. So, I was worried.
But happiness of happiness! They renewed The 100 for a Season 5. I can't wait to see what happens during the rest of Season 4. I can't wait to see what happens in Season 5. I hope all my precious characters stay alive, to fight another day. Thank you CW Network for believing in The 100, ignoring the haters, and giving me another Season to watch!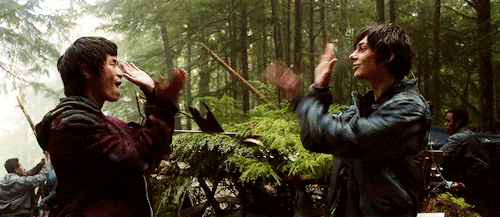 Thank you for tuning in to this Random Tuesday! Are there any other The 100 fans out there? Let me know. Also, I know I said I was going to try and review The 100: Season 4 Episodes as they aired. I have obviously failed. I might try to catch up and get back to it, we'll see.