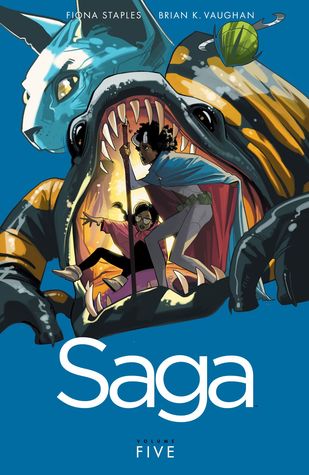 Title: Saga, Volume 5
Written by: Brian K. Vaughan
Art by: Fiona Staples
Lettering and Design by: Fonografiks
Coordinator: Eric Stephenson
Published by: Image Comics, Inc.
Released: 2015
Source: Library
Summary: Our favorite family has been separated. Alanna and Hazel have been kidnapped by a man desperate to avenge his son. He's willing to sacrifice Hazel for his cause. Marko has formed an alliance of convenience with Prince Robot IV. They are both trying to rescue their kids. Let the Saga continue...
My Thoughts: Yayy Saga! Still really fun and really weird, all at the same time. I think I liked this Volume more than Volume 4. I enjoyed the unlikely alliances that happened in this one. Teams formed that would have never formed in Volumes 1-3.
There was also some tragedy in this Volume, and it made me sad. I would have liked those characters to stay around longer.
Can't wait to see what happens next. I won't call this my favorite comic series ever, but I do really enjoy it. I don't recommend at all for younger readers. It's too weirdly graphic sometimes.
BOOKCITEMENT LEVEL 4/5
Good Times.