Welcome to another Top 5 Wednesday post! This week's topic is the Top 5 Authors You Want To Read More From. I did my best to narrow down my picks, so let's gooooo....
--Victoria Schwab--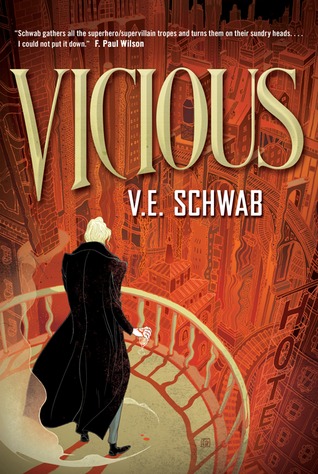 I've only read one book by her, (Vicious) but I absolutely loved it. I need to read more! I've got a couple of her other books lying around too, but I just haven't picked them up yet. I really think that I'll be a big fan of her other books too.
--Jennifer Rush--
I loved the Altered series sooo much and I wanted to read so much more from this author. Unfortunately, at the time, this was the only series she had out. But Good News, Good News! I just looked on GoodReads.com, and she has a new book coming out in October 2017. I'm so excited. But seriously, her Altered Series is fantastic. She writes a great action story so well. And I feel like there's not a whole lot of just action books on the market.
--Kathleen Peacock--
Oh Kathleen Peacock, please, please, please, write more books! I absolutely loved the Hemlock Series. I feel like it's highly underrated. I don't hear about it a lot, and more people need to read it. This series gave me all the feels. It was very emotional, and just really good. If Kathleen writes anything else, it would go to the Top Of My TBR pronto. I just need her to write something else. She's got the storytelling talent. I NEEEEED another book/series by her.
--Christopher Healy--
It's no surprise that I absolutely love The Hero's Guide To Saving Your Kingdom middle grade series by Christopher Healy. They were books that made me laugh out loud, and I had such a fun time reading them. I want to read more stuff by Christopher Healy soooo badly, but he hasn't come out with any new books! Goodreads.com has a page for a new series that is supposed to be coming out, but that page hasn't been updated in a long time. It said the first book was supposed to come out in 2015, and that obviously didn't happen. I just want more stuff by him! I would read allllll the books! One of the worst things, is when you love an author's books, and then find out you don't have any new things to read by them. The Hero's Guide is a great series. More people need to read it and then hopefully, he'll come out with another book.
--Dan Poblocki--
I'm actually reading The Gathering (Shadow House #1) by Dan Poblocki right now, and am absolutely loving it! I've already requested another one of his works from my library, and will probably check out the sequel to this as soon as I see it. I really enjoy reading middle grade, especially middle grade horror. The Gathering has been such a fun read so far. It's creepy, it's quick, and pretty awesome! So with this guy, I've already got plans to read more books by him and an ample number of books to choose from. HOORAY!
So that's my Top 5 Wednesday picks. What are yours? If you want to join in on the Top 5 Wednesday fun, you totally should. Each Wednesday is a fun, new topic to contemplate and figure out answers for. Check out the other group members
here!