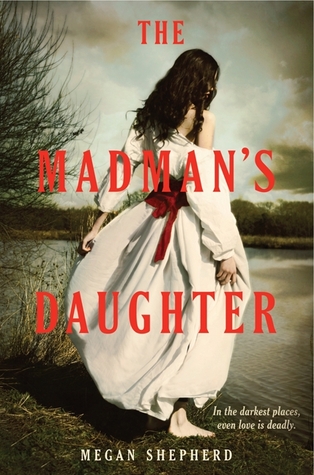 Title: The Madman's Daughter (The Madman's Daughter #1)
Author: Megan Shepherd
Published by: Balzer + Bray/HarperCollins
Released: 2013
Summary: Juliet Moreau's life has been plagued by scandal. Her father, once a renowned London surgeon, encountered rumors and scandal that tarnished the Moreau name, and caused him to disappear. Juliet's mother struggled to get by and provide something for her daughter, but she is taken by illness. Juliet is now alone in London, with no family, security, or marriage prospects. She works in the King's College Medical Lab, scrubbing out the dark halls where medical students make their explorations of the human body. One day Juliet discovers a secret that makes her question everything she thought she knew about her father. Juliet finds people from her past and finds herself sea bound to an island, where strange things are occurring. As Juliet struggles to find the truth, she wonders if madness courses through her own blood.
My Thoughts: Awesome, Awesome Book! I loved every dark, creepy second of it. The atmosphere of the book was gothic and wonderful, and the secrets of the island took their time to reveal themselves. I enjoyed every second of this book, and loved the creepy, disturbing factors of it. I enjoyed experiencing the story through Juliet, even though she gave in to the madness sometimes.
The two love interests were okay. There were times that I was torn between one or the other, but in the end, I know which one I'd choose (whispers Montgomery!!!)
Dr. Moreau was just awful as a father. He definitely made for a very flawed individual, who cared more about science than his own daughter.
I really enjoyed this book. It was AWESOME! That ending just tore my hear. I need to know what happens next. I can't wait for the second book to come out in January 2014. (Boy was that dated. For those that are curious, I write out my reviews right after I finish the book, on a pad of notebook paper, and it can take me quite awhile to actually type them up for the blog. This is why series book reviews will appear out of order. Just fun facts from the world of ashleysgotbookcitement!) This book was creepy and fantastic. Go Read It Now!
BOOKCITEMENT LEVEL 4.5/5
Creepy and Fantastic!