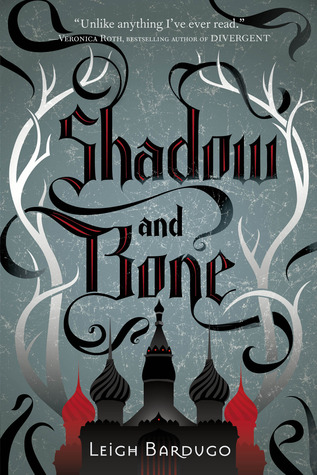 Title: Shadow and Bone (Grisha #1)
Author: Leigh Bardugo
Published by: Henry Holt and Company
Released: 2012
Summary: Alina is an orphan from Ravka. She's nothing special, skinny and weak. She's currently a cartographer (map maker) in Ravka's First Army. She's in love with her best friend Mal, but he's pretty oblivious and busy with other ladies. Alina then discovers she's not so ordinary after all. She's part of the elite Grisha, with one of the rarest powers. She can save all of Ravka, if someone else doesn't destroy it first.
My Thoughts: I'd been interested in starting this series for awhile because of all the hype I've heard about it. It turned out to just be a meh read for me. Not great, not awful.
The world is very interesting, even though I don't get all the intricacies and distinctions. The magic element is pretty cool in it too.
I felt like it had an exciting beginning, a long, boring middle, and an exciting, intriguing end. I'm definitely going to continue with the series, just to see what happens next.
I wasn't really a fan of The Darkling romance stuff. He just seemed to pop up, really push himself on Alina, and then disappear. Plus, I just found The Darkling kind of creepy.
As for Alina, she was just an okay character to me. Sometimes she could be sassy, and I liked that, but then she would shrink back, and go back to being boring. I also felt like it took her a while to figure out obvious stuff about herself. There was one scene in the book where I really wanted to yell at her, but then it got resolved in a different way.
Shadow and Bone was just a meh sort of book for me. Didn't love it, but didn't hate it either. I definitely plan on continuing with the series, just so I can see how everything turns out.
BOOKCITEMENT LEVEL 3.2/5
Meh.