This week's Top 5 Wednesday is our Top 5 Least Favorite Books in Our Favorite Series. This is a fun one. When I first started thinking about this, I didn't think I would have many. In my favorite of favorite series, it's hard for me to find a least favorite book. But then I started thinking a little more and came up with some books in series that I loved, or really liked, or liked, that weren't my favorites. So here are my Top 5 Least Favorite Books in My Favorite Series...
5. Revelations (Elysium Chronicles Book 2) by J.A. Souders: I wouldn't categorize this as my favorite book series of all time, but I really did enjoy the first book in this series. This second book was just not fun for me. The reason that I didn't like it was because the main character turned into such a whiny brat. I could not stand her in this book. She conveniently got amnesia, so she didn't remember anything that happened in the first book, and she would snap at people when they asked her about it. There was also this weird, almost love triangle that I thought was going on that I just didn't really like. The third book still hasn't released in this series yet, which is kind of crazy since book 2 came out in 2013. The third book is supposed to come out July of 2016, but man that is a long wait. This whole series does have beautiful covers though. This book just really suffers from second book syndrome to me.
4. The Hero's Guide to Being an Outlaw (League of Princes Book 3) by Christopher Healy: I love this series sooooo much. I really don't hate any of the books in it, but this last and final book wasn't my favorite of the series. That may have just been because it's the last book and I didn't want this series to end. I do remember not liking how the princes and princesses were split up and how a lot of the story was told from the Princess Group. The Princes were my favorite to read about, so I really just wanted more time with them. If you are looking for a great middle grade series, check this one out. It is Fan-Freaking-Tastic!
3. Reborn (Altered #3) by Jennifer Rush: This is part of an underrated series that I love so much. This one might make my least favorite list because I didn't want the series to end. I also remember that this one didn't really live up to being the finale of a series. It was told in Nick's POV, and I do love Nick, but the original group was kind of out of the picture for the whole book. When I think of an end to a series, I want the whole group together fighting and uncovering one last BIG secret. I really hope for more from this series, I would definitely jump for joy if that ever happened. I recommend this series to anyone looking for a bit of action adventure in their reading life.
2. Breaking Dawn (Twilight Saga #4) by Stephenie Meyer: It's been sooooo long since I reread this book. I think I only read it right after it came out, and I haven't reread it since. This one wasn't awful, but it definitely wasn't my favorite. I think part of the reason was because it was the last book and I didn't really want the series to end. The other reason, probably the biggest reason, was that I just thought that whole Renesmee/imprinting situation was just soooo weird.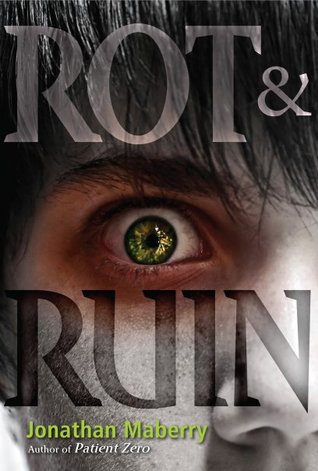 1. Rot & Ruin (Benny Imura Book 1) by Jonathan Maberry: This one wasn't a bad book, it was just the weakest book in the series for me. After this book, the series got so much stronger and became one of my favorite series. I didn't really enjoy the whole feel sorry for the zombies approach and how Tom wouldn't kill them because they used to be people. I'm just of the opinion that once a person gets zombiefied they're gone, and their corpse is just that, a corpse. It just makes sense to me to kill the zombies when you see them, so they don't spread the infection to anyone else. I just think this awesome series has a weak first book. If you've read Rot & Ruin and have not wanted to continue with the series because you just thought it was alright, I can promise the series gets so much more epic after this one. Don't give up and keep on reading!
So that's it, my Top 5 Least Favorite Books in My Favorite Series. What are your picks? If you want to join in on the Top 5 Wednesday fun, you totally should. Each Wednesday is a new fun topic to consider and discuss. Check out all the other
Top 5 Wednesday-ers Here!