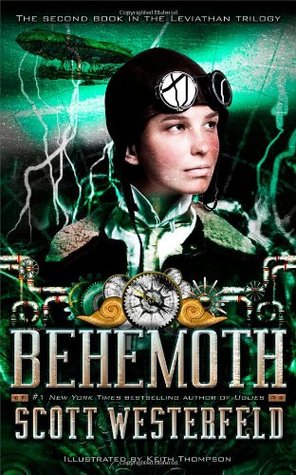 Title: Behemoth (Leviathan Book 2)
Author: Scott Westerfeld
Illustrated by: Keith Thompson
Published by: Simon Pulse
Released: 2010
Summary: The adventure continues for Alek and Deryn. The rumblings of war are getting stronger, and Alek no longer feels safe on the Leviathan. While stopped in Istanbul, Alek and his men make a run for it, but not everyone manages to jump ship. Deryn/Dylan is making a name for herself with the Leviathan crew, but still managing to keep her true identity a secret. With fabricated beasties, mechaniks of all kinds, and a fun, alternate history setting, The Leviathan Trilogy is one fun ride.
My Thoughts: I really enjoyed this book. My thoughts will probably be brief, because I don't want to give anything away for those who have yet to discover this series. Scott Westerfeld does a great job of imagining this alternate WWI world, with flying whales, terrifying krackens, and machines that would put Transformers to shame. This series is just a whole lot of fun, and I highly suggest you check it out.
I love Keith Thompson's art work scattered throughout. His illustrations just jump off the page and make the story come more alive.
Alek, Deryn, and all the supporting cast, are great characters. They are all super interesting to read about, and fun. This could be a positive or negative, I'm not sure, but there are many times that I forget Deryn is a girl at all. She's so fearless and physical, and she definitely puts other airmen to shame.
This is a solid sequel in the Leviathan Trilogy. Full of action, danger, and spices! To understand that last one, you'll just have to read it. Probably the first and last book that you will ever read with a flying whale ship in it. This is a lot of fun, so go pick it up now!
BOOKCITEMENT LEVEL 4/5
A solid sequel full of action and fun!