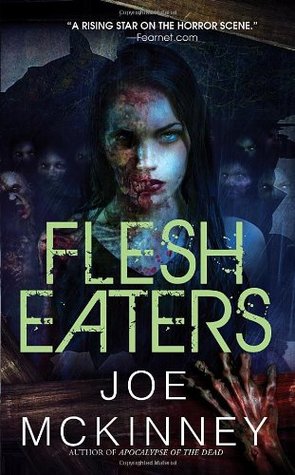 Title: Flesh Eaters (Dead World #3)
Author: Joe McKinney
Published by: PINNACLE BOOKS/Kensington Publishing Corp.
Released: 2011
Summary: Houston, Texas braces for disaster when they get hit by three massive hurricanes in the span of a week. The city is damaged, flooded, and broken beyond repair. The survivors are a little broken too. Then, out of the flooded streets pops up a threat never before imagined. At first, stories are told about cannibals roaming the streets and eating people, but then it becomes apparent that zombies have come to Houston as well.
Eleanor Norton is just trying to keep her family safe and do her job as a police officer. Mark Shaw is just trying to do his duty to his sons and the survivors of Houston. But, there's a very real possibility that no one will make it out alive.
My Thoughts: This was just a mehh book for me. I love a good zombie story, but this one was just okay. It didn't move me or tug on any heartstrings. On a positive, I kind of enjoyed the setting of the flooded and ruined streets of Houston.
I had a few problems with this book. One was that I really didn't like any of the characters, so I wasn't rooting for any of them. Eleanor was annoying. Madison screamed all the time, which seems pretty stupid to do constantly in a zombie apocalypse. Jim was kind of ignored, and he definitely gave all his masculinity to his wife. Mark Shaw was confusing. How can one care about honor and duty, while at the same time planning something that goes against your morals? Brent was a sad sack. Jesse wasn't really fleshed out. And Anthony was just a douche bag. If Mark Shaw's crew had cared a little less about money, things might have turned out differently for them. Oh, and Eleanor was super judgey too.
My second problem was there was just too much going on. There were the 3 hurricanes, then the zombies, and finally a bank heist!? Sticking to one disaster might have made it more compelling or something.
Also the "zombies" themselves were a little confusing. They were kind of alive, but not, and you could kill them in other ways rather than just shooting them in the head.
I might check out more zombie novels by Joe McKinney. I didn't hate Flesh Eaters, but I just thought it was an okay read, nothing great. It is very action-packed though.
BOOKCITEMENT LEVEL 3/5
Mehh