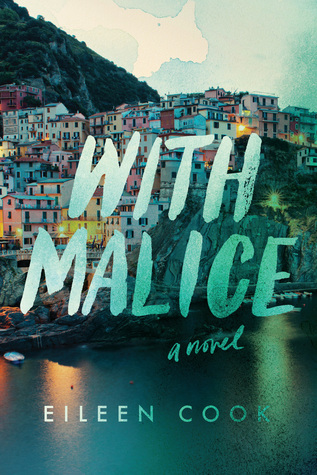 Title: With Malice
Author: Eileen Cook
Published by: Houghton Mifflin Harcourt
Released: 2016
Source: Library
Summary: Jill wakes up in a strange situation. She's battered and bruised, her leg is in a cast, and she can't remember what happened in her life for the last few months. Jill can't remember the academic trip she took to Italy. She can't remember the accident that the Italian police want to question her about. They seem to think it wasn't an accident at all, but something she did on purpose. Someone died in that accident, and Jill just wishes she could remember if it was her fault or not. Jill finds herself in a very precarious position, being blamed for a crime she can't remember, and in danger of being extradited back to Italy to face charges for it. She's sure she didn't do it, if only she could remember.
My Thoughts: I recommend going into this book blind. Don't read the synopsis on the book jacket, let yourself be in the dark just like Jill is, I think that adds a little more fun to it.
I really enjoyed this book! I flew through it, constantly questioning what the truth was. Who did it?!?! What happened??? Who's guilty??? So many questions, which is exactly what I want in a mystery thriller. I like trying to figure out the crime, seeing if I can figure it out before the character does.
One of my favorite parts of this book where the police interviews, witness testimonies, news show clips, and all the other little extra bits. It just felt like I was getting intimate access to the case. The whole rest of the time, we are with Jill, and Jill doesn't know anything about her time in Italy and what led up to the accident. With the extra tidbits, the reader gets to learn more and see what the rest of the world is saying while Jill has been kept in a kind of isolation. It was just very fun and engaging.
It also had a little bit of that true life Amanda Knox thing going with it, but only in the sense that an American girl was being pursued by the Italian police for a crime that it didn't look like she committed.
The ending made me realize that I know nothing. It will definitely throw you for a loop, at least that's what it did to me.
I thought this book was a lot of fun. Very mysterious, engaging, I need to know what happens next. It's an enjoyable read and I would definitely recommend it!
BOOKCITEMENT LEVEL 4/5
What happened in Italy???