WEEK 4
A TITLE THAT DOESN'T CONTAIN THE LETTER "E"
MY CHOICE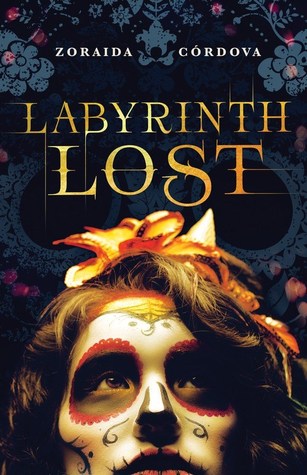 Title: Labyrinth Lost (#1)
Author: Zoraida Cordova
PROGRESS POST
What are you reading this week? I'm reading Labyrinth Lost by Zoraida Cordova.
Was it difficult for you to find a book without an "e" in the title? It was hard to find a book title without an "e" in it. I had found one book earlier that I could have used for this challenge, but then decided to use it for another week. It's amazing how many words contain an "e".
What do you think about choosing a book by it's title? Personally, I don't think that's a smart way for me to choose what to read. Titles of books don't hold as much appeal to me as the synopsis and the cover can. I mean, having a cool title is cool, but sometimes it gives virtually no clues about the book. Now there are some titles I really like, like I Am Not A Serial Killer by Dan Wells or Between the Devil and the Deep Blue Sea by April Genevieve Tucholke, those titles got me interested to read the books, but they were special cases.
So that's what I'm reading for this challenge. Are you participating? You totally should. It's fun. Check out the challenge
here!