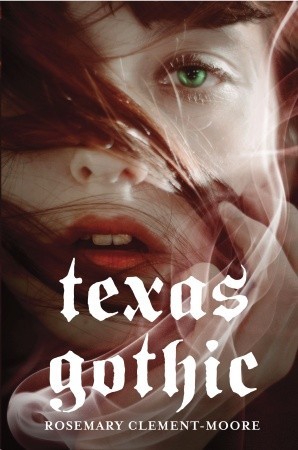 Title: Texas Gothic (Goodnight Family #1)
Author: Rosemary Clement-Moore
Published by: Delacorte Press
Released: 2011
Summary: The Goodnight family is no stranger to magic. Amy Goodnight has been surrounded by magic her whole life. Amy is practical. She feels that her role is to protect the Goodnight family from the scorn and disbelief of the public. Amy is fine with her non-magical role in the family and while she believes, she tends to keep her distance.
Amy and her sister Phin are house sitting for her aunt. Amy takes care of the goats and other animals, while Phin is in charge of the plants. When a skeleton is uncovered and an anthropology team sent to the scene, the summer starts to get a lot more interesting. A ghost starts contacting Amy, urging her to find him. Then the hot, cowboy neighbor starts to come on Amy's radar. Amy, with the help of her friends, must solve the mystery of the ghost and find out what her special Goodnight talent really is.
My Thoughts: Great book. I thoroughly enjoyed every second of it. I loved the characters of Amy, Phin, Ben, and all the others. At the beginning, I wasn't sure if this was going to be the creepy, ghost story I was hoping for, but it delivered. The ghostly mystery was just too intriguing to quit, so I had to keep reading to the end.
One of my favorite parts of this book was the relationships between different characters. I loved the sister relationship between Phin and Amy. Anyone who has a sister could definitely relate. Amy and Phin were two distinctly different people, but they had that friendship that only sisters share. Phin also reminded me of a female Sheldon Cooper from The Big Bang Theory.
I really enjoyed the love/hate relationship between Ben and Amy. The chemistry between them was so obvious and they really made a good pair. Ben McCulloch is definitely crush worthy. Phin and Mark's relationship was also so cute. Ahh, it made this reader long for a sexy boy of her very own.
The ghost story/mystery was also really fun and intriguing. I never felt scared while reading this, but I definitely wanted to uncover the secrets of the ghost.
I loved this book. I can't wait to read the second book in the series. It's just fun, enjoyable storytelling. I recommend this book to everyone reading this review. It's great!
BOOKCITEMENT LEVEL 4.5/5
Loved Every Page of it and Ben McCulloch