What I'm Reading Right Now! is...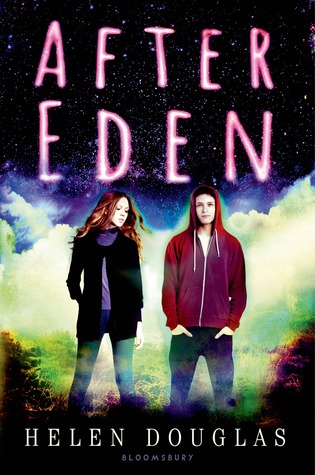 Title: After Eden (#1)
Author: Helen Douglas
I've only got 100 pages to go. Goodreads informs me that I'm about 62% through the book.
So, I do this thing on Netgalley where I request second books in series and then have to scramble to get my hands on the first book. This was one of those cases. I requested Chasing Stars by Helen Douglas only to discover that it's the second book in a series. The Horror! The Humiliation! Luckily, I was able to get a copy through my library. Yet another reason that the library rules.
This book is about this girl named Eden who becomes entranced by a mysterious new boy who comes to her school. He has an accent she can't identify, has no idea what pizza is, and he's never heard of Hitler. He's also very interested in Eden's friend/he-wants-it-to-be-more-than-friends Connor. Eden must figure this guy out and protect her heart at the same time.
I kept my synopsis pretty vague because I didn't want to spoil anything.
At first, I didn't know what to think of this book. I had a very predictable sort of pattern to it. New guy comes to school, main girl falls in love with him, but guy has secrets. As the story has gone farther, I've been more into it. It added some interesting twists and turns.
So I'm planning to finish this fairly soon. Once I hit that 100 pages left mark, it tends to go pretty quickly.
Next Up Is...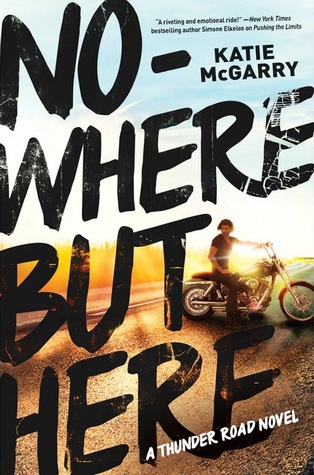 Title: Nowhere But Here (Thunder Road #1)
Author: Katie McGarry
I'm on page 200 at the moment.
I started this one a while ago and thought it was high time to finish it. I've been enjoying what I've read so far, but I don't think it's going to be my favorite book of the year.
It's about a motorcycle gang and young people falling in love. I mean, there's more to it than that, but that's pretty much what it is about.
So that's what I'm Reading Right Now! What are you reading? Let me know so we can talk books!