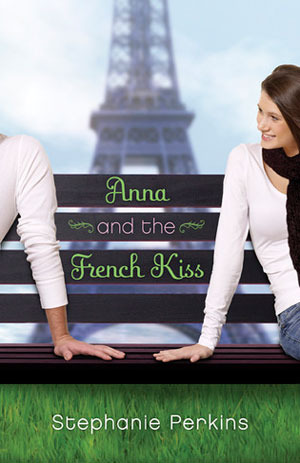 Title: Anna and the French Kiss (#1)
Author: Stephanie Perkins
Published by: Dutton Books/Penguin Group
Released: 2010
My Source: Library
Summary: Life is good for Anna in Atlanta, Georgia, until her best-selling novelist of a father decides to send her to a fancy boarding school in Paris. Anna is angry at having to leave her friends and family behind for a place where she doesn't know anybody.
Once in Paris, Anna makes friends with Josh, Rashmi, and Meredith, and meets the highly addictive Etienne St. Clair. St. Clair becomes the one and only thing Anna thinks about, problem is, he's already taken. Anna is put in the position of falling in love with the boy she can't have.
My Thoughts: I had heard nothing but good things about this book. Everyone raves about Anna, Etienne, and Stephanie Perkins highly addictive novel. This book has been advertised as the contemporary for people who hate contemporaries. I can honestly say that Contemporary Fiction is not my go to genre of pleasure. However, I did rather enjoy this novel. It's just a cute, sweet little romantic story set in Paris. The characters are all likable and fleshed out. The setting makes one feel like they're actually in Paris. The romantic tension between Anna and Etienne makes one long for their own perfect guy (I'd personally go for taller, but that's just me).
It's also impossible to only just read one chapter. You just have to keep reading and rooting for Anna and St. Clair to finally get together.
I will say that I'm not really the biggest fan of books that deal with potential cheating or make it out like it's okay. For example, Anna pining for the guy that already has a girlfriend. It doesn't matter how evil or mean said girlfriend is, he's taken. I think if St. Clair had been a free agent, I wouldn't have had to struggle as much to root for this cute relationship. Cheating is baaaaad.
Side note: Anna's dad reminded me so much of Nicholas Sparks.
Just a very cute and fun little contemporary romance that will appeal to teen girls and hopeless romantics everywhere.
BOOKCITEMENT LEVEL 4/5
Sweet Like Sugar.