What I'm Reading Right Now! is...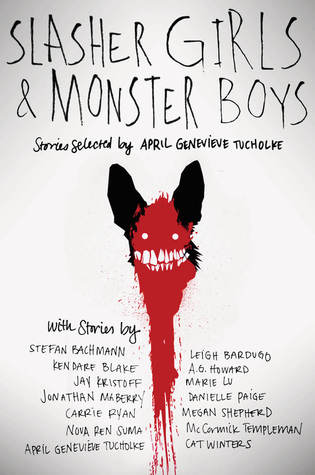 Title: Slasher Girls and Monster Boys
Various Authors. Edited by April Genevieve Tucholke
I've got less than 100 pages left, so I'm almost there.
This is an anthology of horror/scary stories that I'd had my eye on for a while. I really like horror/creepy books. Not every book marketed as horror/creepy/scary lives up to what it's supposed to be. I am really enjoying this anthology. It has the right level of creepiness to it, and I like that. I haven't come across a story that I've absolutely hated yet either, which is a win. My favorite stories so far have been Hide-And-Seek by Megan Shepherd and In the Forest Dark and Deep by Carrie Ryan. This has definitely been a fun read. I didn't know how much I was craving a scary story until I picked this up. I definitely recommend this one!
As for what I'm going to read next, I don't know. I guess you'll just have to tune in next week ;)
So that's what I'm Reading Right Now! Tell me what you are reading in the comments below, because I do always like to know.