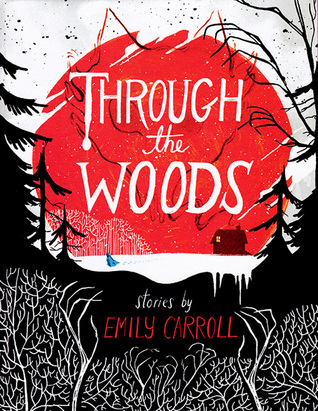 Title: Through the Woods
Author: Emily Carroll
Published by: Margaret K. McElderry Books
Released: 2014
Summary: Beware of things that come from the woods, evil lurks there. Five chilling tales await in this little book. Five tales to chill the soul and have you leave the lights on. Always be suspicious of what lurks in the woods, one day, it could just follow you home. Enter a macabre fest of creepy tales mixed with gorgeous illustrations.
My Thoughts: This was a lot of fun. All the tales were really chilling and disturbing. I love how the art was just as much a part of the story as the words were. The way it was all interwoven, just made for a very unique reading experience.
This would be a perfect Halloween read, because all the stories are just so unsettling.
This was a win for me. I loved the artwork. I loved the creepiness of the stories. Just a very fun, visual read. That's really all I have to say. I definitely recommend this for fans of some good, creepy tales.
BOOKCITEMENT LEVEL 4/5
Beware of the woods, evil lurks there.