I'm super excited to be a part of The Wife Between Us Blog Tour! Thank you St. Martin's Griffin for having me. Check out my review below.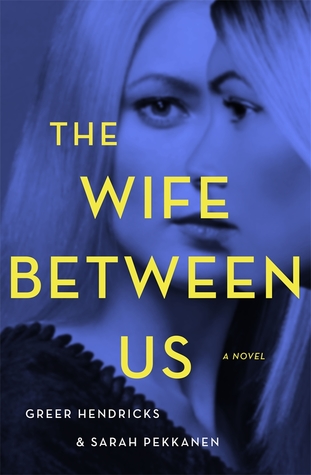 Title: The Wife Between Us
Authors: Greer Hendricks and Sarah Pekkanen
Published by: St. Martin's Press
Released: January 9th, 2018
Source: NetGalley Review Copy from St. Martin's Press
Summary: Here's how the story seems at first glance, a jealous ex-wife, her replacement, and the husband between them. That's how it seems, but what if it's not? What if there is more hiding beneath the surface? To find out just what this story really is can't be assumed, the only way to know is to unravel the strings that tie this knot together.
My Thoughts: Well, that was a thing that certainly kept me reading! It was very addictive, twisty, and fun! I'd like to thank St. Martin's Press and NetGalley for providing me with a review copy, and inviting me to be on the Blog Tour for The Wife Between Us. My review and opinions are 100% honest and 100% my own.
I really enjoyed this. It was very addictive, fast-paced reading. The narrator was unreliable. As a reader, I never knew just what was what. The story was super twisty too. There were so many twists and turns that I wasn't sure what to expect next. It was definitely a twisty, unexpected thriller.
The Wife Between Us subject matter wasn't exactly groundbreaking. It's a subject that has been told many different times in many different ways. What made The Wife Between Us different was the way it was told. It was surprising.
Vanessa is an unreliable narrator in the deepest sense. I felt like she dragged out her story just to keep her audience on edge and really wanting to know just what it was that happened. She could have laid it all out on the table pretty quickly and succinctly, but the way she told it made it maybe longer than it should have been. In the end, I also still had questions that Vanessa never really answered. I don't think she was 100% sure of some of the details herself. Vanessa was a narrator I couldn't really trust, and I think she worked really well for this story.
One of the twists definitely shocked me. I wasn't expecting it. The other twists were fun too. That first twist held the most punch for me though.
The Wife Between Us was a fun time to read. I'd definitely recommend it. I see it becoming a best-seller when it comes out easily. It's a great twisty, turny thriller, with a narrator who isn't giving the full story. Thank you St. Martin's Press and NetGalley for letting me read an early copy, and also for letting me be on the Blog Tour! I definitely enjoyed it.
BOOKCITEMENT LEVEL 4/5
Twisty, Turny, and Shocking!
PURCHASE HERE!! But remember, it doesn't come out until January 9th, 2018.