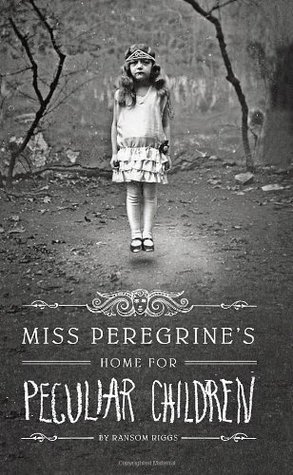 Title: Miss Peregrine's Home For Peculiar Children
Author: Ransom Riggs
Published by: Quirk Books
Released: 2011
Summary: Jacob has grown up listening to his grandfather's fantastic stories of a mysterious island, an orphanage, and a group of very peculiar children. As Jacob grows older, his grandpa's stories start to become more fiction than reality. The monsters Abe claims to see are thought to be just hallucinations of an old man. Then Jacob's grandfather dies in a mysterious manner and Jacob sees something that can't be real. Jacob is heartbroken, confused, and scared. As a form of therapy, Jacob decides to visit the island of his grandfather's youth. On the island, Jacob discovers things that lead him to believe that his grandfather was telling the truth all along and that the peculiar children might be the least of his worries.
My Thoughts: This book has been sitting on my shelf for quite awhile being neglected and all that stuff. Because of my library addiction, I tend to focus just on reading library books and not the books that I actually own and keep on buying. My friend Ali suggested that we read this book together and I'm glad she did. Ali has a youtube channel and I highly recommend checking her out because she is one of my favorite people! ( https://www.youtube.com/user/alisonmurfitt ). I enjoyed every second of this book. The premise was cool with all the peculiar children, they mysterious island, the monsters, the grandfather's secrets, and Jacob's role in the whole thing.
I also loved the design of this book. Quirk did an awesome job at making a pretty book. It felt like a book I actually could have picked up and flipped through in Miss Peregrine's library. And also, the pictures! Those awesomely creepy, sometimes disturbing pictures that were incorporated in the book. They added a little something extra to the story and it just made it all the more interesting to know that they were real pictures of real people and places. I do feel that there was one opportunity missed, and that was including a picture of Miss Peregrine's Home. I would have loved that.
I really enjoyed this story and can't wait to continue on to the next book. This is a book that deserves all the hype that it gets and I highly suggest you go read it. It won't disappoint.
One thing I don't know about is the relationship between Emma and Jacob. It just feels slightly wrong and a little icky. Great book though.
BOOKCITEMENT LEVEL 4.5/5
Climb aboard and let's go to an island filled with Peculiar Children!