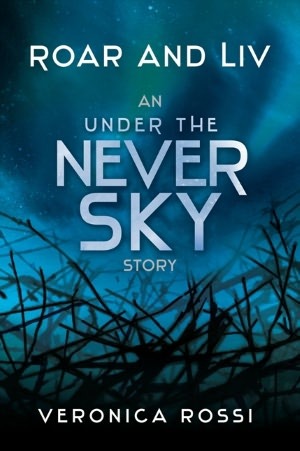 Title: Roar and Liv (Under the Never Sky Book #0.5)
Author: Veronica Rossi
Published by: HarperCollins
Released: October 2012
Summary: One thing is clear from the Under the Never Sky trilogy, we love Roar! This is a story about Roar from before he ever met Aria. Told in Roar's POV, it chronicles the events that happened before Under the Never Sky. Experience the love of Roar and Liv. The friendship of Roar and Perry. The tension that Vale brings in his leadership of the Tides. And finally, experience the ultimate shock of Liv leaving for the Horns territory. Spend a little more time with the awesomeness that is Roar.
My Thoughts: What a fun little extra to the Under the Never Sky trilogy. I really enjoyed this, getting a story from Roar's point of view and getting to witness a little of his and Liv's love story. I had already finished the whole Under the Never Sky trilogy, so the story was a little bittersweet for me because I know what happens ultimately. Reading this novella just made me feel even worse for Roar. I want him to find happiness.
Now there's always the question with 1.5 and 0.5 ebooks in a series, do you really need to read them? If you just want to experience the Under the Never Sky trilogy as it was originally intended, then no, you don't have to read this. But if you want some exciting little extras and a peek back into a world you loved, then yes, read this! I liked how this showed the tension between Vale and Perry. It kind of made you lose some sympathy for Vale and be semi-okay with what Perry had to do ultimately. It was also nice seeing Roar and Liv together as they were before.
So I really enjoyed this e-book novella extra to the Under the Never Sky trilogy. I got more Roar and I love Roar.
BOOKCITEMENT LEVEL 4.5/5
One of the best side characters ever!