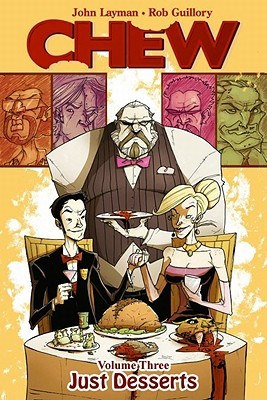 Title: Chew: Volume 3: Just Desserts (Chew #11-15)
Written and Lettered by: John Layman
Drawn and Coloured by: Rob Guillory
Color Assists by: Steven Struble
Published by: Image Comics, Inc.
Released: 2010
Summary: More crimes, more gross things to eat. Tony Chu and John Colby are back after Tony's island adventure. Tony is finally in a relationship with Amelia, and Colby is having relationship issues of his own. A job with the FDA is never boring. Tony never knows what he'll have to eat next.
My Thoughts: Another fun edition of Chew. I feel like I don't have much to say that I haven't said before. Chew is a lot of fun. I like the storyline, I really like the art, I like the funny little extras included in the panels. Tony and John still remind me of Miles and Sawyer from Lost. I always feel like I'm getting more Sawyer and Miles whenever I read a volume of Chew, which is something I love.
Applebee was pretty funny in this Volume. The whole situation with John has made for some weird awkwardness with Tony.
It did end on a pretty big cliffhanger, so I'm curious to get to the next one.
I really enjoy this comic series. It is a lot of fun and I'm excited to see what happens next.
BOOKCITEMENT LEVEL 4/5
Delicious.