What I'm Reading Right Now! is... Same ol' same ol'. Not much excitement because I'm reading exactly the same books I was reading last week.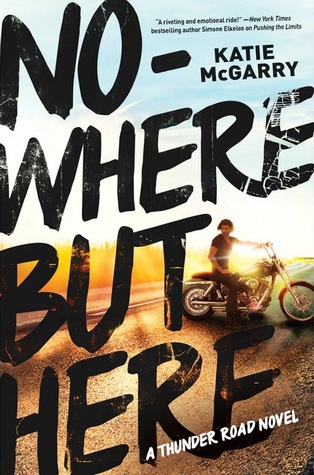 Title: Nowhere But Here
Author: Katie McGarry
About 42% finished.
I have made absolutely no progress in this book. In general, I suck at reading two books at a time, which could be why I haven't gotten any farther in this. I'm also not loving this like I loved the first Katie McGarry book I read. The main character Emily hasn't been my favorite, and it's been a little difficult to understand her mindset. If I don't finish this before it's due back to the library, I'll just check it out again. No big deal.
Title: Maplecroft
Author: Cherie Priest
Got a little farther in this one, I'd say probably about 30%. I'm on page 150ish
I've been concentrating on reading this one more than Nowhere But Here. I'm enjoying this. It's definitely a slow moving read. I am sometimes a little iffy when it comes to books that want to play around with history. So, the facts about Lizzie Borden and how she is portrayed in this book, I'm taking as worth a grain of salt. But it's getting kind of mysterious and creepy. All this build up to whatever the monster is.
I did finish something this week though, and that was...
Title: The Dark Discovery of Jack Dandy (The Steampunk Chronciles #2.5? maybe)
Author: Kady Cross
Yes it's just a novella, but I still read something. Love this series and really enjoyed this novella. It was about my favorite criminal, Jack Dandy.
So that's what I'm Reading Right Now! What are you reading?