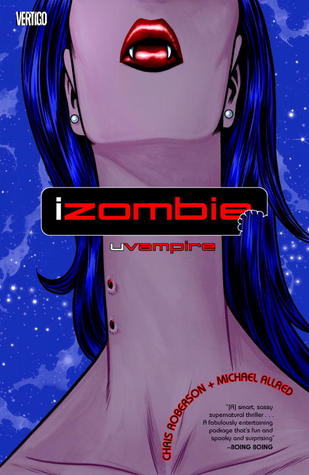 Title: iZombie, Volume 2: uVampire
Written by: Chris Roberson
Art and Covers: Michael Allred
Issue 12 Guest Artist: Gilbert Hernandez
Colorist: Laura Allred
Letterer: Todd Klein
Published by: DC Comics
Released: 2011
Source: Library
Summary: Ghosts, zombies, were-terriers, and vampires stalk the night...in Oregon. Gwen is suffering from zombie hunger. Someone has been stealing corpses from the morgue, making a fresh meal hard to find.
Gwen has to deliver a message from mother to daughter, so she can digest the rest of her meal in peace.
Elle learns a new trick and contemplates her past.
Scott reconnects with some family in an unexpected way.
And our monster hunting duo might have bitten off more than they can chew.
My Thoughts: This was the perfect respite from all the dark books I've been reading lately. It was just fun, very colorful, and an intriguing story.
I think I was too hard on the first Volume of iZombie. I didn't fully appreciate what it offered. It's a no stress comic, which should be appreciated.
I really enjoyed all the aspects of the story. Everything flowed, everything made sense, and we got some interesting backstory into our main characters. I'm also interested to see what happens with the monster hunters.
I really enjoy the art style in this comic. It's so colorful, reminds me of Scooby Doo.
This was a fun read. I plan on continuing with the series whenever I can get my hands on the next volume. I might even give the show a second shot, who knows!? I think this comic is a good time, and would recommend it!
BOOKCITEMENT LEVEL 4/5
Zombies, Ghosts, and Were-Terriers... OH MY!