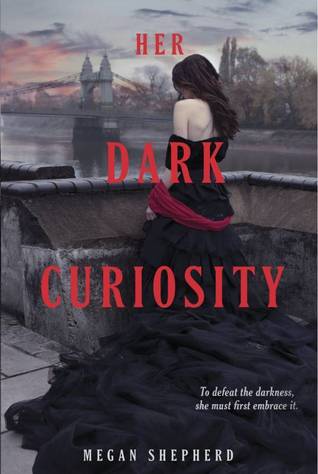 Title: Her Dark Curiosity
I am on page 63 of 420 pages, which makes me 15% through the book.
Here's what I'm Reading Right Now for this week: Her Dark Curiosity by Megan Shepherd. Yayy! I loved loved loved the first book in the series (The Madman's Daughter,) so I couldn't wait to get my hands on the sequel. For those of you who haven't read the first book, I'm not going to spoil it for you. In this book Juliet is back in London trying to forget everything that happened on the island. Then London is plagued by a killer who's calling card is a flower dipped in blood and deep slashes in all the victims chests. Juliet thinks she has an idea who the killer is and now just has to catch them before it is too late.
I'm really enjoying this sequel so far. I loved the first one and recommend it to everyone who hasn't read it yet. So if you haven't read it yet, go pick it up NOW! This series is so creepy and atmospheric. It is a perfect Halloween read cause it has all the chills and thrills.
So that's what I'm Reading Right Now! and probably what I'll be reading for a little while longer. Tell me what you are Reading Right Now! in the comments below, cause I always do like to know.