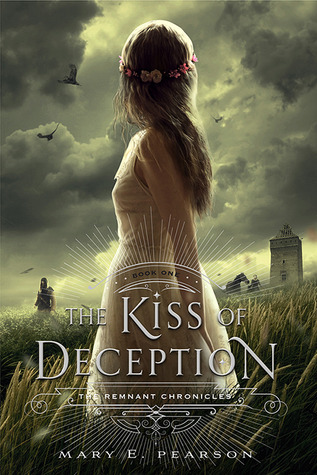 Title: The Kiss of Deception (The Remnant Chronicles Book 1)
Author: Mary E. Pearson
I'm on page 20 of 489 pages which makes me about 4% through the book.
What I'm Reading Right Now! is The Kiss of Deception by Mary E. Pearson. I've had my eye on this book for a little while just because the story sounded interesting and the cover really caught my eye. Here's what I know about the book just from reading the synopsis and the first chapter or so, Lia lives in a kingdom with some strange traditions. As the first daughter, she is expected to marry a prince from a far away kingdom to cement an alliance. Lia has never met this prince and resents the tradition that dictates the marriage, her brothers and sisters are allowed to marry who they wish, who they love, and Lia wants that same choice. But Lia has a plan, on the day of her wedding she runs away and takes something very important with her. As Lia tries to make a new life for herself in a village, she doesn't know that the jilted prince and an assassin are hot on her trail. So that's all I know about it and it sounds really good.
I've really just started this book and it wasn't what I was expecting at first. I'm enjoying it though and can't wait to see how it continues. I sense a romance either between her and this jilted prince or her and the assassin, which should be fun. It almost has a medieval feel to it which I'm enjoying. Hopefully I'll get farther into it this weekend and it becomes a book that I really enjoy from start to finish.
So that's what I'm Reading Right Now! Tell me what you are reading below. Also, have you read Kiss of Deception and what did you think of it? I'd love to know.