So this Top 5 Wednesday is going to be a mash up of all the Top 5 Wednesdays I missed during the month of February. My reason for missing so many Wednesday posts, well there is always the reason of my extreme laziness, but I also suffered from not having enough books for each topic. Some of the past Top 5 Wednesday topics, I just couldn't think of really good books or enough books to go with each post. So I decided to do the next best thing and combine the last three Top 5 Wednesdays into one post. I hope you enjoy this mash up post and here's to hoping that I do better in March.
February 11--Top 5 Books That Take Place in Your Country/Region/Area
I had trouble thinking up books to go with this topic. Sometimes you do find that special book that is set in the same general area of where you live and it does bring a little bit of specialness to the book, but what I found when trying to find books for this topic was that it was hard. I tried looking up lists for books set in the state where I live, North Carolina, and I did find some lists, but I wasn't sure of the truth of those lists. I wanted to be sure that the books really were set in North Carolina rather than just playing a guessing game. So here's the books that I came up with and I can guarantee that at least a part of each book is set somewhere in North Carolina.
1. Shine by Lauren Myracle: I read this one in January 2015 and it was set in the mountains of North Carolina. The setting was pretty important to the overall story because it chronicles the affects a hate crime can have on a small, mountain town. The characters are shaped by where they live. The setting of the book is not just a place, but a real home for these characters.
2. Half-Blood by Jennifer L. Armentrout (basically the whole Covenant series): I also read this one in January of 2015 and so can say with certainty that it definitely takes place in North Carolina. This book is set on a fictional island near Bald Head Island, North Carolina. I loved the beachy setting for this series and it was just a plus that it also took place near a real North Carolina town/island/whatever. This is just a North Carolina resident putting this out there, but North Carolina is really cool cause it has a little of everything, beaches, mountains, and the piedmont. I used to live in the landlocked state of Kansas, so being able to live in a state that offers multiple vacation experiences is just really fun.
3. Anna Dressed in Blood by Kendare Blake: Now for this one I will admit that the majority of the book takes place somewhere else, but the first scene does occur on a random North Carolina road, so I can totally count it. Also the first scene was really great for setting the tone of the book and I mean it said North Carolina, and that was all I needed to make it count for this list.
February 18--Top 5 Friend Groups You Want To Be A Part Of
This topic was another one where I failed at finding 5 books to fit the list. There was really only one friend group I knew I definitely wanted to be a part of. It was the first and only one that really jumped to my mind. Not saying that there aren't other great friend groups out there, but I couldn't think of any others that I would want to be a part of like I would want to be a part of this one.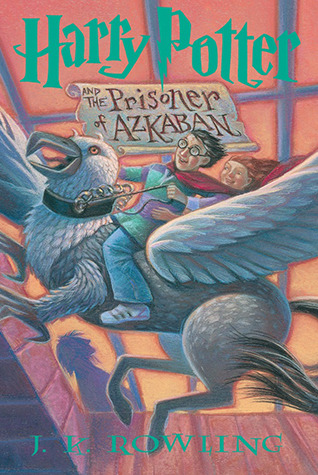 1. Harry Potter and the Prisoner of Azkaban by J.K. Rowling: This was the one friend group that jumped to the forefront of my mind and just pretty much overshadowed all other friend groups. I kind of grew up with Harry, Ron, and Hermione and their friendship was one of the greatest things about the series. I loved all three of them and they each added something special to the group. Of course I would want to be friends with them, with the added bonus of being a student at Hogwarts!! The only reason I picked the third book to represent this was because I was trying to find an original cover with the trio on it, this was the closest I got.
February 25--Top 5 Best Character Arcs/Development
So this is the Top 5 Wednesday that is actually scheduled for today. When I first considered this topic, I wasn't sure I would be able to think up enough books to fit. The more I thought about the topic, the more books came to mind and I was able to come up with a full five. I think the best character arcs come from series, where you start out with a character and really see them grow and become the heroes they are destined to be. So here's my picks for the Top 5 Best Character Arcs/Development.
1. Harry Potter and the Sorcerer's Stone (Harry Potter #1) by J.K. Rowling: I couldn't not mention Harry Potter. Probably one of the best characters arcs that I have read and probably will read. Readers grow up with Harry, Hermione, and Ron. All the characters in the series go through so much and grow so much, but I think Harry and Hermione really wow in how much they've grown from beginning to end of series. It was one of the coolest experiences to read this series as I was growing up, because I felt like I actually was growing up with Harry. Now I would love a book that revisits Hogwarts and Harry, Ron, and Hermione as adults.
2. I Am Not A Serial Killer (John Wayne Cleaver #1) by Dan Wells: John Wayne Cleaver goes through so much growth throughout the entirety of this trilogy. If you are in to creepy, scary, sociopathic characters, then John Wayne Cleaver is one you'll have to add to your to read list. When the series first starts, John Wayne Cleaver is just plain creepy, and as a reader I was intrigued by him but also terrified. As the series goes on and comes to its close, John Cleaver morphs into a little bit of a hero and I just felt for him. Good news for me is that I've heard rumors there could be another book in this series and I'm excited for that because I definitely want to see what John Wayne Cleaver's been up to.
3. Gone (Gone Series #1) by Michael Grant: This series is flippin' crazy and so satisfying. All the characters in the series go through so much growth and turmoil. By the end, they are not the same kids that entered The Fayz. They've all had to go through so much crazy stuff. This is another one of my favorite series and I will recommend it to anybody and everybody. Such a fun series to read.
4. The Lightning Thief (Percy Jackson and the Olympians #1) by Rick Riordan: Now I haven't finished the Percy Jackson series yet, I've only read the first two books, but I just know that Percy will go through a lot of growth as the series goes on. I see it in a way similar to the Harry Potter series, in where a boy must embrace his destiny and become the hero that he is meant to be. I will finish this series one day.
5. The Merchant of Death (Bobby Pendragon #1) by D.J. MacHale: This was an early favorite series that I started in middle school. I think more people definitely need to read this series and enjoy it for the awesomeness that it is. Bobby Pendragon goes through so much and grows so much as the series goes on. He's another character that becomes the hero he was always destined to be. A definite, fun must read!
So that is the end of my mash up Top 5 Wednesday posts for February. What books do you think fit the topics above? Do you agree with any of my choices? I'd love to know. Top 5 Wednesday's are a really fun weekly post to include on your blog. There are always cool topics to discuss and think about. I suggest you join in the fun yourself! Here's a list of all the
Top 5 Wednesdayers!