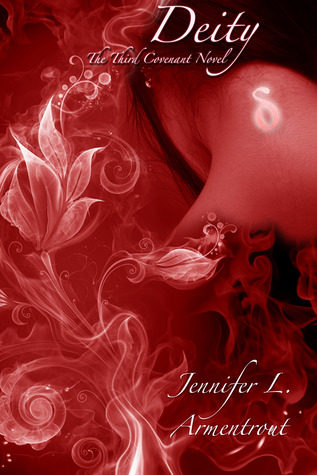 Title: Deity (Covenant #3)
Author: Jennifer L. Armentrout
Published by: Spencer Hill Press
Released: 2012
Summary: After the disastrous events in New York, Alex has returned to the North Carolina Covenant. Her Awakening is drawing nearer and she doesn't know what to expect. When Seth has to travel to New York with Lucian, Alex is able to reconnect with Aiden, although it's not entirely by her choice. Still concerned for Alex's safety, Aiden and the others guard her day and night. Alex isn't sure who to trust or what will happen when it comes to her future. What do the gods have planned for Alex and her friends?
My Thoughts: I'm going to keep this review relatively short because I don't want to spoil anything that has happened in the others. I have gone on and on about my sort of disappointment and ambivalence of this series. I'm still sticking to my overall thoughts that in the end, this is just an average enjoyment series for me. But Deity has to be my favorite book of the series so far. The main reason for that being that Alex didn't annoy me half as much in this one, Yayy! There were still a couple incidents where I wished she used her head more, but overall, I didn't hate her in this one.
I really enjoyed all the romantic tension with Aiden and am pretty firmly on his team again. I don't know what to really think about Seth in this one. I'm still on the fence with him.
Some parts of the story dragged for me, but Deity really did offer an interesting story. A lot of things happened that are going to make the rest of the series very interesting. I will be picking up the rest of the books so I can see how it all ends.
BOOKCITEMENT LEVEL 3.5/5
My favorite book of the series so far.