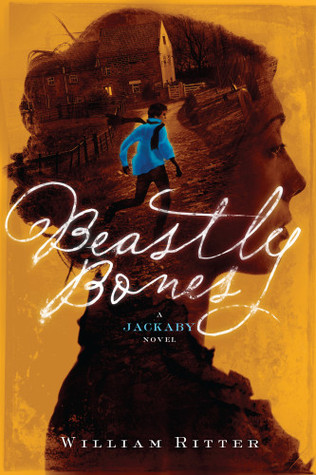 Title: Beastly Bones (Jackaby #2)
Author: William Ritter
Published by: Algonquin Young Readers
Released: 2015
Source: Library
Summary: Jackaby and Abigail Rook are back! And they have another case they must solve. It all begins with a basketful of kittens that turn out not to be kittens, followed by a murdered woman. The mystery deepens with a theft of bones from a recently uncovered archaeological dig. It's up to Jackaby, with much assistance by Abigail Rook, to solve the case! We also get a visit from Charlie Cook! What kind of supernatural oddities to we get this time?
My Thoughts: Oooh I love this series. It's so fun, funny, and has a great mix of the supernatural mystery. Right when I read the first paragraph, I knew I was in for a good time. I love Jackaby's oddness and Abigail's ability to get him back on track. I think this might be my only 5 Star book I have for 2016, which should say something.
This is really just a gush fest since I loved everything about it. I can't wait to see where the next book goes, because it will involve a certain Prim and Proper Ghost. Hopefully I can get my hands on the third book soon.
I totally recommend this series. It is just fun reading. Do you like fun reading? Then you'll like this!
BOOKCITEMENT LEVEL 5/5 !!
One of my only 5 Stars of 2016