This week's Top 5 Wednesday is your Top 5 Hunger Games Moments (movies or books). This week's topic is helping to celebrate the upcoming release of
The Hunger Games: Mockingjay Part 2
. I'm so excited for the release!! I just have to stick to the movies, which I love, because I haven't read the books yet. I own them, but just haven't gotten around to reading them yet. I know, shameful. So here are my Top 5 Hunger Games Moments.
1. Katniss's awesome archery skills: She made archery look so cool, so effortless. It made me really want to learn how to shoot a bow and arrow. I ended up taking an archery class in college, and discovered that I wasn't very good at it at all, but it was a lot of fun. Thank you Katniss for furthering the coolness of the bow and arrow.
2. Katniss' awesome dress moments: They were so beautiful!! Maybe the only reason that I would even consider dressing up.
3. Rue: Everytime I see that scene my eyes tear up. You know what scene I'm talking about. What happened to Rue really helps illustrate how brutal and inhumane the Hunger Games really are. RIP Rue.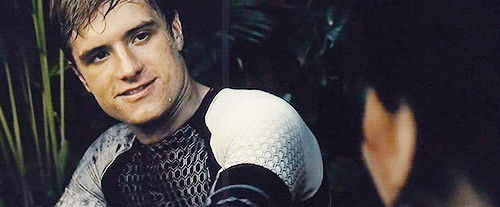 4. Peeta: Yep, this is my pick for Katniss.
5. Katniss destroying the arena: That was epic!
Those are my Top 5 Hunger Games Moments, what are yours? I'm so excited for the release of
The Hunger Games: Mockingjay Part 2
. I love the movies so much. I'm definitely planning on reading the books sometime in the near future. If you want to join in on the Top 5 Wednesday fun, you totally should. Each Wednesday is a new topic to contemplate and enjoy. Check out all the other
Top 5 Wednesday-ers here!